Oil is gaining for the third trading session in a row, reaching $83.4/bbl for Brent and $81.4 for WTI. After a corrective pullback to 76.4% of the August-October rally, the first significant Fibonacci retracement, the recovery gains strength. Oil buyers stepped up late last week on strong US employment data and Saudi Arabia's December selling price hike on the fundamentals side.
At the same time, buyers should not lose sight of OPEC+ forecasts claiming that global oil production will exceed consumption as early as next quarter. Investors should also pay attention to the risks of intervention by the US, with a possible announcement this week. There are additional reports of increased political pressure on Biden to lower fuel prices and thus inflation. The current president's record lows (just 38%) in approval are also likely linked to fuel costs.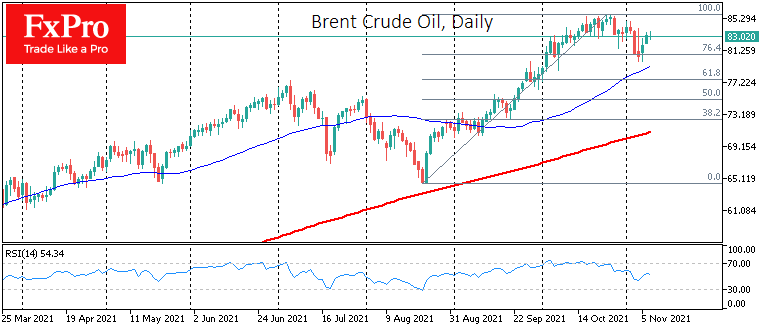 In our view, short-term downside risks to oil now prevail, and the potential for a corrective pullback is far from exhausted. We should not be surprised if we see a new downside reversal in the coming days, which would send Brent below $80 and WTI under $77.