Everywhere we look we see markets pricing in aggressive hiking cycles in the coming 12-36 months. In the US the markets are pricing 5 hikes over the coming 12 months – in the UK we see this also at 5 hikes, Canada 6.4 hikes, Australia 4.6 hikes, NZ 7.5 hikes and even in Europe the market is eyeing 35bp of hikes over 12 months.
The elephant in the room though comes in the form of balance sheet runoff or 'QT' and we know this is being widely discussed by the Fed, BoE, and Bank of Canada. Taking away the punchbowl while also raising rates is fraught with dangers and it fully justifies the rise in implied volatility this year.
With rate settings in mind, we look ahead at both the BoE (23:00 AEDT) and ECB meeting (23:45 AEDT) and this makes EURGBP very interesting as a trading instrument – I can already see EURGBP 1-day implied volatility pushing to the 12-month high, so traders are expecting movement.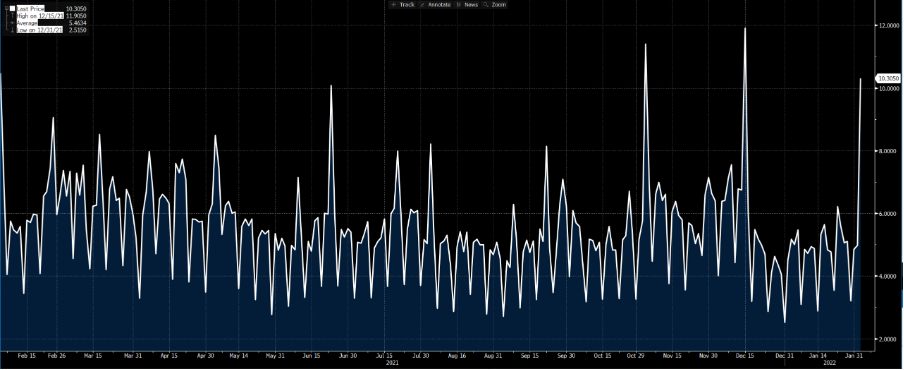 EURGBP 1-day implied option volatility
As we know the job of a trader is to manage risk, and this can mean shying away from exposures over a volatility catalyst, such as a central bank meeting. However, if both banks are coming out with policy statements at similar times when much is priced into the rates curve, then it could lead to some interesting price action.
In times like this the best situation is not to prophecies but to react – on the daily we see the Bollinger Bands (BB) narrowing as price consolidates – I like to see this before the facts change and capital starts to flow in one direction – here we would see a more explosive move and in a bearish example, ideally where price prints a lower low, taking out support at 0.8304, before starting a bearish trend where the BB widen and price holds below the 5-day EMA – a basic momentum strategy but can offer definition to a rules-based system.
Of course, we could see price move higher, taking out the recent 0.8359 swing high before moving into the top BB and potentially starting a more bullish trend, with price hugging the upper band and finding buyers into the 5-day EMA.
Firstly, the BoE is fully expected to hike at this meeting - it is 98% priced, so buying GBP in anticipation of a rate hike purely at this meeting seems like a poor trade – although the BoE has surprised in the past two meetings, so there is always an air of unpredictability. The question should be whether they hike and subsequently show urgency and guide to another in March or May (there is no April meeting). We should also hear more about reducing its balance sheet (QT).
The ECB won't change policy at this meeting, but the market is keen to hear if the bank remains relatively dovish, or we see a more hawkish turn from the bank, especially after such lofty EU inflation print (5.1% headline, 2.3% core). The odds have clearly risen that the bank opens the door to normalising policy and Christine Lagarde potentially tells us that she cannot rule out a hike this year. This would move the bank closer to market pricing and justify a long EUR position. Of course, the ECB may hit a cautionary note, remaining dovish and pushing back on market pricing. Depending on the BoE actions may push EURGBP through 0.8304. The playbook is set, but this is a strategy I like to adopt to capture a moving market.