In the past week, WTI's price surged to a new two-month high level yet corrected lower and is so far breakeven in the current. Oil prices have been moving above $100 per barrel for the past several weeks, emphasizing further the risks and uncertainties related to the energy market. In this report we aim to present a brief yet informative analysis of the Oil market, providing the necessary tools for traders to work with. We will also be closing with a technical component, overviewing important levels and trends.
In the past days West Texas Intermediate prices may have come under volatility as the weekly US Crude inventories were released. Starting with the most recent one, EIA's Crude Oil Inventories displayed a -1.02M barrel drawdown on Wednesday.
Even though drawdowns are considered to provide support for Oil prices, traders may have been disappointed to see inventories drop at a slower pace compared to previous weeks, signaling some relief for tight markets. WTI prices dropped approximately $1.65 in the next 45 minutes of the release. Another highlight came on the 20th of May, with the U.S. Baker Hughes Oil Rig Count jumping from previous 563 to 576 which strengthened WTI prices in the following hour, as a possible confirmation of higher Oil demand. Overall, traders showed readiness upon release of the data, pointing out that the weekly information should not be taken lightly as it can potentially create opportunities for orders to go through.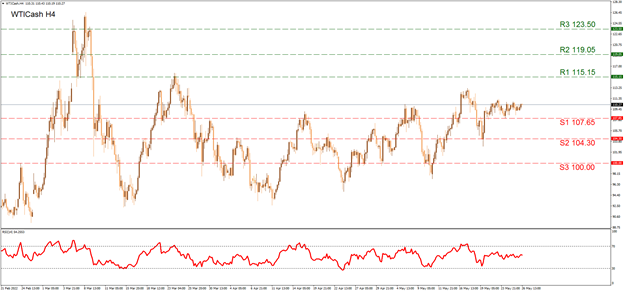 On another front, traders may be more interested in the days ahead and especially in the following week, when the EU summit will take place on the 30th of May. Market analysts are contemplating if the EU is serious about imposing an embargo on Russian oil. Though some EU members like Hungary may not be fully in favor of a move away from Russian Oil, the embargo on Russia remains the majority choice among European countries. Russia on the other hand, has made headlines very recently engaging in talks with Iran, another nation that has faced hard sanctions by the US. This is a strategic move from Russia's side, as Iran has managed to survive multiple years of US sanctions. The talks could form the foundation for the two nations to work closer in the near future, as according to Reuters Russian Deputy Prime Minister Alexander Novak said "Iran could become a key transportation and logistic hub for ensuring mutual transportation of goods,".
Looking forward, Oil market prices may have further reasons to remain elevated due to some subjects being constant. OPEC led by Saudi Arabia seems to insist oil supply is relatively in balance as per Saudi Foreign Minister Prince Faisal bin Farhan, implying further output may be considered excess. Yet market participants now turn their attention towards Shanghai which could be reopening after a two-month lockdown, likely lifting Chinese demand for Oil in the short-term. Higher Chinese Oil demand combined with the notion that OPEC may not be in favor of supplying more oil could add further pressure to Oil prices.
According to our personal view, WTI continues to trade nearby the (S1) 107.65 support level and precisely at $110 per barrel. We see WTI moving in a sideways trend yet after the recent new monthly high reached on the 17th of May, we could add to that some bullish tendencies. We highlight the (R1) 115.15 resistance level as it could be a target in a bullish scenario, while above that, we may be in for a ride to the (R2) 119.05 level. In terms of lower grounds, we have already mentioned the (S1) while further to the sell side, we note the (S2) 104.30 support barrier which was tested very recently and maybe re-used. For the commodity to turn its current course into a selling one, we would require a move clearly breaching the (S3) 100.00 support. The RSI indicator below our chart is currently running just above the 50-level confirming a rather indecisive market in the short term. From a more long-term perspective, WTI remains in an upward trend from our point of view.