Many have been left scratching their heads over this equity rally which accelerated through July and August, while other risk assets couldn't find the same love. Some of the reasons have been fundamental as well as technical. On the technical side, I think we've seen some short covering, momentum and CTA players chasing upside price moves, light volume and liquidity exacerbating moves.
From fundamentals we've seen stock buybacks ramped up and retail are clearly dipping their toes back into the water again given some of the price moves across the typical retail stocks. Q2 US earnings showed US companies have been resilient during one of the toughest macro backdrops on record.
The dollar depreciation also removed a headwind for those foreign multinational revenues. Lastly, the market has been anticipating a dovish pivot by the Fed and refocusing on growth slowdown and recession fears as indicated by rate cuts priced over 2023. US 10-year yields have slumped lower too.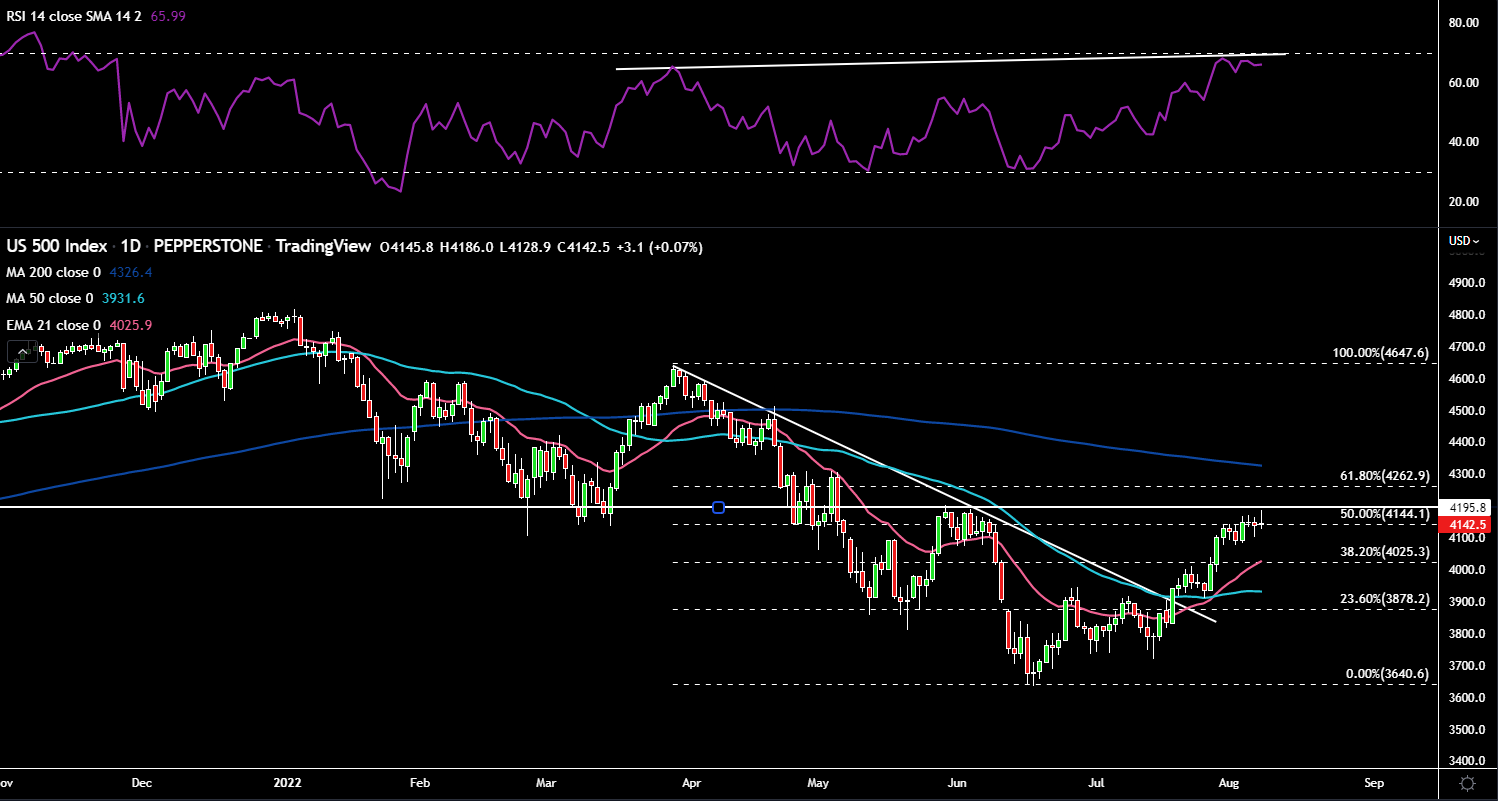 Scanning the chart, a few obvious things pop out at me. Price seems to be finding resistance at the 4.2k level (horizontal line) which also happens to be just above the 50% Fibonacci level with the 61.8% slightly higher, just below the 200-day SMA. We did break the downtrend line, which is a positive for the bulls, however the RSI is exhibiting negative divergence as the RSI makes a higher high on a lower price high. Could this Wednesday's CPI number be the catalyst to push price higher or lower. On the upside, the 4.2k level will need to be cleared before any attempts at 4.3k and the 200-day SMA can be made. On the downside, the 38.2% Fibonacci level, 21-day EMA and the round number of 4k would be key.