A possible bullish scenario was observed on July 20 in the GBPJPY currency pair on the D1 time-frame. On July 21, the bulls decided to stay and a long position was triggered when demand overcame supply. It is important to know that it is a good practice to take a calculating risk with any trade, as there is no way to know or predict the market movements after the trade is in place. By placing a stop-loss at a logical pre-determined level, it will help to protect your trading capital if the market direction changes unexpectedly for whatever reason. Although it might be the beginning of a new uptrend from a structural point of view, how far the demand will take the market can never be forecasted accurately.
After the GBPJPY currency pair crossed the critical resistance level at 135.899 on July 21, a higher top was formed and the bears tried to pull the market lower.
During this downward move, any traders that did not plan their money management properly might have succumbed to emotions of fear and closed the position while still in a confirmed early stage of an uptrend. Using the Fibonacci tool with extensions and taking partial profit, a high probability money management process can be used effectively manage not only risk but more importantly mental pressure as well.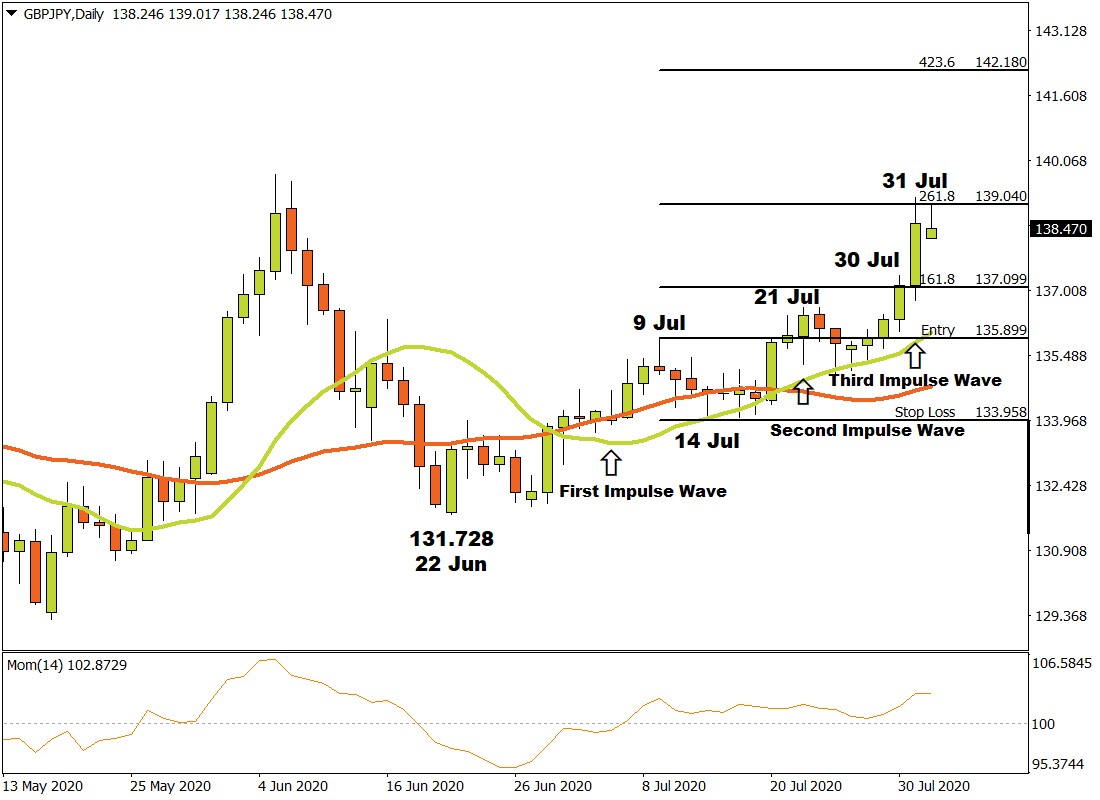 The first target at 137.099 (161 %) was reached on July 30 and with a surprising boost in demand pressure, the second price target at 139.040 (261.8%) was triggered on July 31.
With a third upward impulse wave in progress, a corrective wave might be anticipated before a possible fouth impulse wave where the third and final target might be touched at 142.180 (423.6%) if the upward momentum continues.
As long as the upward bias remains intact and demand overcomes supply, the outlook for the GBPJPY currency pair on the Daily time-frame will remain bullish.
Written on 03/08/2020 by Theunis Kruger, FX Trainer at FXTM