Following a short downtrend structure that started forming on the GBPJPY Daily chart, it seems like the the Bears might be running out of steam. On 30 October, a lower bottom formed at 134.401 but the downward momentum could not be sustained and the currency pair broke through the 15 and 34 Simple Moving Averages with the Momentum Oscillator briefly touched the 100 baseline that divides the positive and negative territories.
The upward momentum continued until it hit a possible critical resistance level at 137.386 on 4 November. The Bears then tried their best to regain control but a support level was formed on 5 November at 135.075 with a Hammer Candles pattern and a resulting possible higher bottom completed.
This is the first indication for technical traders of a possible change in trend from consequtively lower tops and bottoms to consequtively higher tops and bottoms.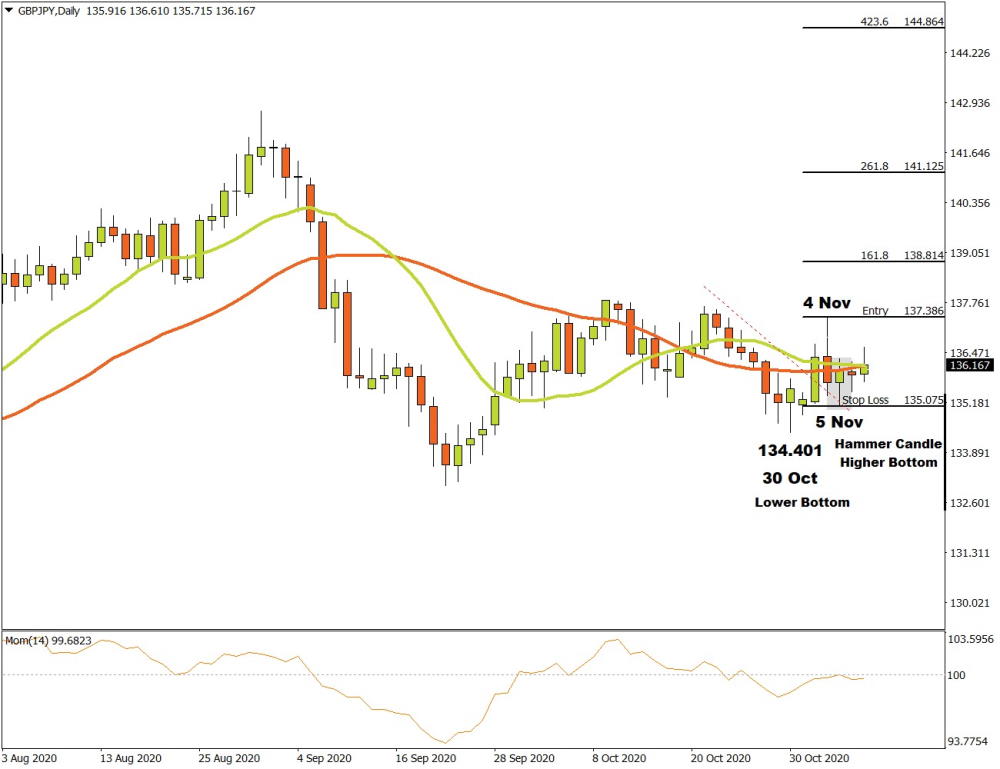 If the GBPJPY breaks through the critical resistance level at 137.386, then three possible price targets can be calculated from there. Applying the Fibonacci tool to the top of the resistance level at 137.386 and dragging it to the conformed support level at 135.075, the following targets may be considered. The first target can be estimated at 138.814 (161 %). The second price target may be considered at 141.125 (261.8%) and the third and final target could be projected at 144.864 (423.6%).
If the established 135.075 support level is broken, the anticipated price targets above are annulled and the whole scenatio must be re-evaluated.
As long as the GBPJPY price structure continue to make higher tops and bottoms, the outlook for the currency pair on the Daily time-frame will remain bullish.
For more information, please visit: FXTM
Written on 09/11/2020 by Theunis Kruger, FX Trainer at FXTM