The GBPJPY currency pair on the Daily time frame, was in an extended uptrend until 6 April when a higher top was recorded at 153.414. Bears then started making moves and the resulting supply pressure caused the market to start moving lower. After the higher top at 153.414, the market broke through the 15 and 34 Simple Moving Averages with the Momentum Oscillator crossing into negative terrain as it cut the zero baseline. A Three Black Crows candlestick pattern further alerted technical traders to a possible change in the trend direction.
A critical support level was formed on 16 April at 149.384 after which the bulls tried to push the price of GBPJPY higher again. On 20 April the bulls hit a resistance level and could not prevail as bears came out of hibernation to join in greater numbers.
On 23 April the price of GBPJPY broke through the critical support level at 149.384, signaling that a lower bottom was in progress. From there three possible price targets could have been calculated. Applying the Fibonacci tool to the bottom of the support level at 149.384 and dragging it to the previous lower top and resistance level at 151.982, the following targets may have been considered. The first target could have been projected at 147.778 (161 %). The second price target may be predicted at 145.180 (261.8%) and the third and final target may be expected at 140.977 (423.6%).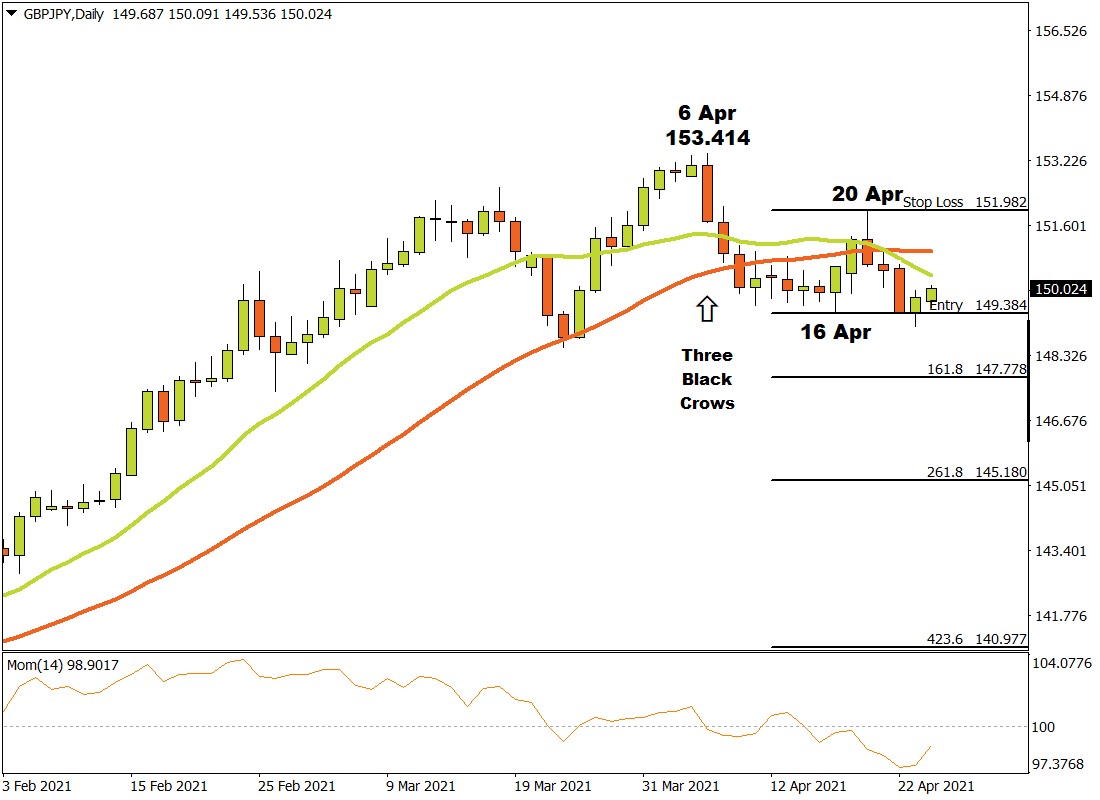 If the resistance level at 151.982 is broken, the scenario above is annulled and appropriate action must be taken. As long as the market maintains a negative sentiment and supply keeps overwhelming demand, the outlook for the GBPJPY market on the Daily time frame will remain bearish.
For more information, please visit: FXTM
Written on 26/04/2021 by Theunis Kruger, FX Trainer at FXTM