As we get ready to enter the second half of the year, here are the major events over the coming days that carry enough weight to influence various asset classes:
Monday, June 28
Fed speak: New York Fed President John Williams
European Commission's summer economic forecasts
Tuesday, June 29
Fed speak: Richmond Fed President Thomas Barkin
ECB President Christine Lagarde speech
Germany CPI
Eurozone economic confidence
US consumer confidence
Wednesday, June 30
UK GDP
Germany unemployment
Eurozone CPI
US ADP jobs
Thursday, July 1
China Caixin manufacturing PMI
OPEC+ meeting
BOE Governor Andrew Bailey speech
Eurozone unemployment
Manufacturing PMI: US, Eurozone, UK
Friday, July 2
ECB President Christine Lagarde speech
Eurozone PPI
US nonfarm payrolls
Commodities spotlight: Brent oil
OPEC+ is set to make another key decision on 1 July: whether or not to pump out more oil in August. Analysts surveyed by Bloomberg expect the cartel to raise their collective output levels by another 550,000 barrels per day (bpd) in August. However, even such a hike is expected to leave global markets in a deficit, which could translate into more upside for oil prices.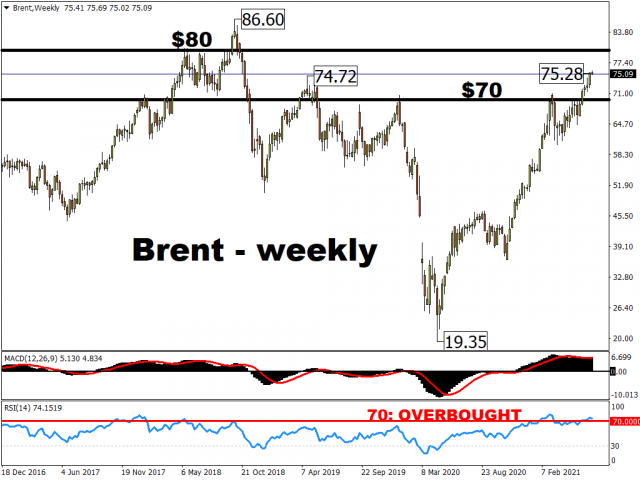 As things stand, Brent prices are trading at their highest levels since October 2018. However, judging by its relative strength index, which has crossed the 70 mark to indicate overbought levels, Brent appears ripe for an adjustment in the near-term. Such a pullback would then clear some of the froth to pave the way higher for Brent oil.
However, the uncertainty over the US-Iran nuclear talks still looms over Thursday's meeting. A US-Iran nuclear deal could see Iran resuming oil exports and upsetting the cartel's supply plans. It remains to be seen how OPEC+ continues restoring its supplies into the world while taking into account this wildcard.
Still, come Thursday, a smaller-than-expected output hike of fewer than 550,000 barrels per day in August could send Brent prices even higher and closer to the psychologically-important $80/bbl mark.
Strike three for US nonfarm payrolls?
The US nonfarm payrolls has disappointed markets for the past two straight months. As things stand, economists are forecasting 700,000 jobs were added in the US labour market this month. If so, that would the highest NFP print in three months, since the March figures. In the leadup to that tier-1 economic release, this USD index, which is an equally-weighted index comprising 6 major currency pairs, has settled into a more "normal" conditions since pulling back from overbought levels.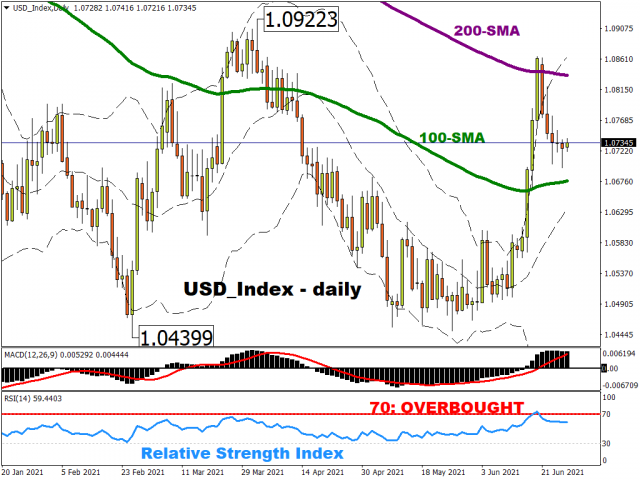 However, another lackluster NFP print could give the Fed more runway before having to ease up on its asset purchases, which could prompt the greenback to unwind more of its recent gains and test its 100-day simple moving average (SMA) as the next support level.
Still, the greenback could be jolted by another US jobs shocker this Friday. A June hiring surge in the US could ramp up expectations for the Fed's tapering once more. Such a narrative could call upon this USD index's 200-day SMA as a key resistance level once more.