Despite a disappointing non-manufacturing Chinese PMI reading, Asian bourses are holding up today with eyes on US jobs data and the latest Eurozone inflation print. The Chinese composite PMI unexpectedly fell from 54.2 to 52.9 earlier this morning with details showing a stabilisation of the manufacturing gauge but a setback in the non-manufacturing reading. New restrictive measures in Gaundong to contain a regional Covid outbreak are mainly responsible for this with waning external demand contrasting with rising domestic orders.
Risk mood improved
Markets took comfort in Moderna saying that its vaccine is effective against the Delta variant of the virus with the S&P500 marginally higher and closing at all-time highs. The tech-laden Nasdaq also notched another record peak rising for a sixth day in seven with Facebook pulling back after hitting the magical $1 trillion market cap level. Also adding to more positive sentiment was the US Consumer confidence which jumped with a bounce both in expectations and the current situation.
The dollar went bid breaking out of its recent range and is heading towards the post-Fed highs.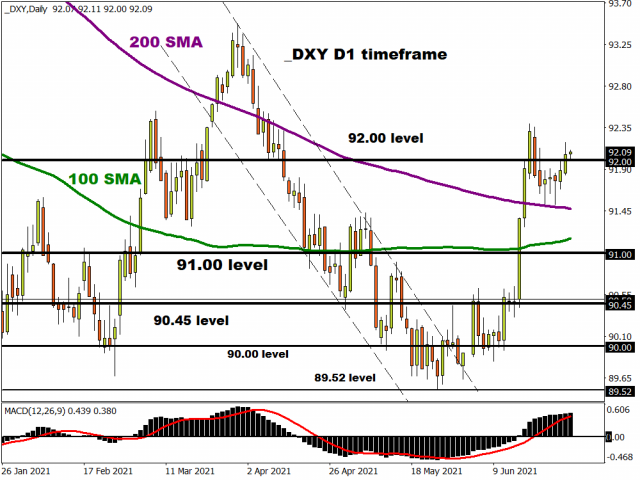 In EUR/USD, this means we are trading below 1.19 again with eyes on the recent cycle lows at 1.1847.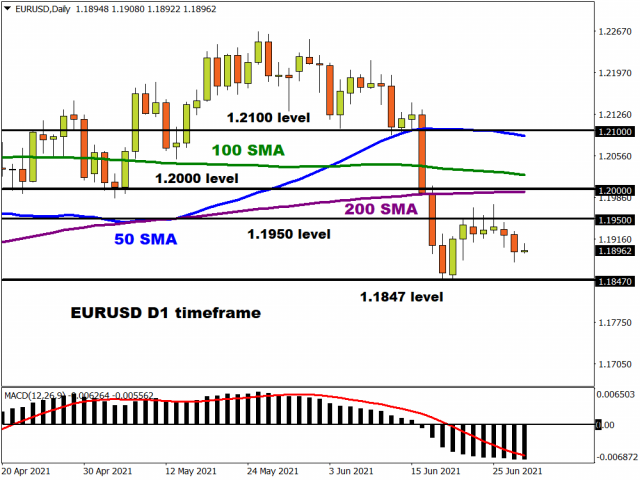 With the monthly US labour market report out on Friday, focus will be on US ADP data today which will be monitored for any signs that private sector hiring has quickened. Although not a great predictor of the NFP headline number, a big beat or miss today can cause near-term volatility. Expectations are for a punchy 600k reading with many analysts hopeful that jobs data comes in strong going forward.
Eurozone inflation subdued
Consensus expects headline and core Eurozone inflation prints to remain relatively subdued at 1.9% y/y and 0.9% y/y respectively when the data is released this morning. Country figures already pointed to a slowdown and these are fairly tame readings compared to those elsewhere. With the outlook remaining muted, the ECB will continue to be one of the last remaining dovish central banks on the block.