There was a rather strong dynamics on NZD/USD yesterday. The currency pair had the most significant daily decline for the last several years. Kiwi fell by more than 150 points. The political uncertainty in New Zealand was the cause for this large drop.
A new coalition of the government has been formed in the country. The Labor Party integrated with the "New Zealand First" anti-immigration party. Their fusion gave the opportunity to beat the conservative National Party in the electoral competition. By the way, the last party had won the previous elections on September 23. Jacinda Ardern, the labor leader, has become a new governor of New Zealand.
I advise you to observe the release of the US real estate market statistics at 14:00 (GMT) today.
The technical pattern on the NZD/USD currency pair:
Support levels: 0.69750, 0.69000
Resistance levels: 0.70100, 0.70500, 0.71250
I think that the current NZD/USD price was affected by yesterday's political events in New Zealand.
There is usually a correction after sharp movements, that's why I expect a bullish sentiment on this asset in the nearest future. The divergence of price and MACD appeared on the M30 timeframe. It is a strong reversal formation of the technical analysis.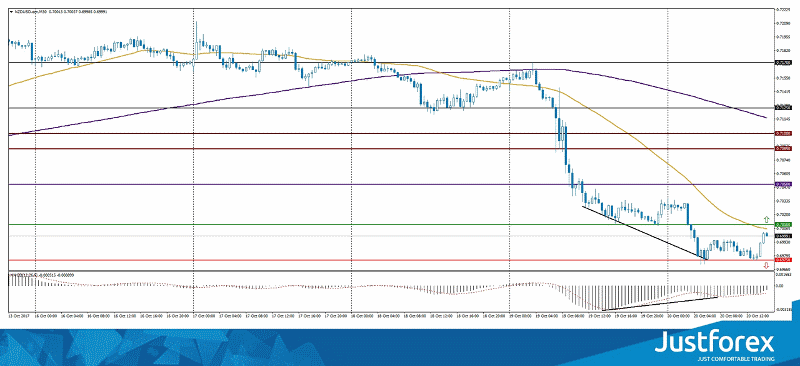 ​
I suggest buying the NZD/USD pair (with a trailing stop) after it fixes above the 0.70100 mirror resistance level. The profit can be taken at the 0.70500 level. The pair may move to 0.70850-0.71000 in the medium term.
Another trade idea. I also don't exclude the opportunity of a possible NZD/USD drop. If it happens, I recommend selling Kiwi after it reaches the 0.69750 support level. The currency pair may reach 0.69250-0.69000