The USDJPY currency pair on the D1 time-frame was in a down trend until July 31 when a lower bottom was reached at 104.177. The appealing price of 104.77 attracted buyers and subsequently the bears were overthrown with the price then propelled upwards and the momentum caused the market to eventually breach both the 15 and 34 Simple Moving Averages. The Momentum Oscillator also crossed the zero baseline into positive territory. This is an indication to technical traders that a possible new new uptrend is in progress.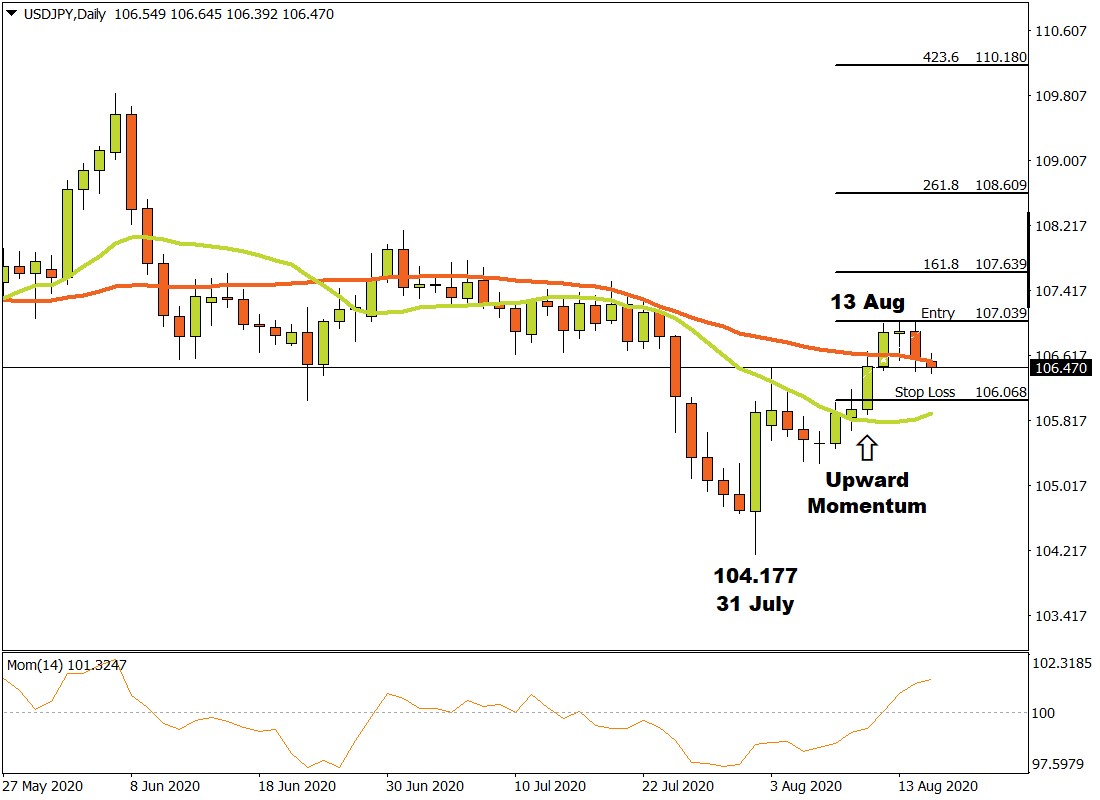 A higher top and possible critical resistance level formed on August 13 at 107.039 and bears are currently trying to exert pressure to the USDJPY pair. If the pair breaks through the critical resistance level at 107.039, then three possible price targets may be calculated from there. Applying the Fibonacci tool to the top of the resistance level at 107.039 and dragging it to the bottom of a possible support level near the 15 Simple Moving Average at 106.068, the following targets could be considered. The first target can be projected at 107.639 (161 %) and the second price target might likely be at 108.609 (261.8%). The third and final target may be expected at 110.180 (423.6%) if the uptrend continues.
If the 106.068 support level is reached, the bullish scenario above are invalidated and will need to be reassessed.
As long as buyers maintain a positive sentiment and demand overwhelms supply, the outlook for the USDJPY currency pair on the Daily time-frame will remain bullish.
Written on 17/08/2020 by Theunis Kruger, FX Trainer at FXTM