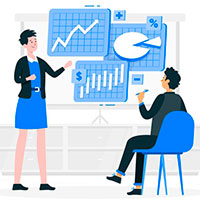 A beginner trader, who just enters the forex market, is shocked profoundly by the diversity of trading strategies. Most of them have so jaw-breaking names and crabbed systems. Sidus forex strategy, trendline forex strategy, Fisher strategy, forex strategy moving average, forex puria method and many others, plus uncountable indicators and trends, all of these seem mountain peaks lost far away in the clouds.
Some time passes, and a trader become acquainted with the market theory and practice. The trader's experience becomes more and more extensive making the arsenal of trading instruments bigger. And a then a question "what components to choose" occurs to create his best trading strategy.
There are traders who prefer to try different existed strategies one after another. Others choose just one and perfect their skills on it. Somebody likes a simple algorithm that takes minimum of time and attention, another one picks out a strategy with numerous colorful indicators and is ready to sit all day long looking for the entry points and so on and so forth…
The classification of trading strategies
According to the trading time:
Short-term (an intraday forex strategy). Positions are closed in the frames of one trading day, sometimes during several seconds (like scalping strategies).

Medium-term (a position can be active during a couple of days or even weeks).

Long-term (a position lives from one week up to several months).
According to risks:
Conservative (with minimum of risks)

Moderate (the risks are not that high but they take place)

Aggressive (the risks are pretty high)
Forex rate forecast has many top strategies, but they can be also classified:
According to indicators' type and graphical patterns:
Simple or without indicators

Trading strategies with graphical patterns

Strategies based on moving averages

On the base of Japanese candlesticks

Based on Bollinger's stripes

Fibonacci forex strategy

Strategies on the base of other indicators (including those that are created by traders themselves)
According to trade capacity:
Strategies with the use of Martingaile's method

With no use of methods that allow to rise a lot
According to the way of trading:
Manual

Half-auto (elements of auto-trading together with manual trading)

Auto-trading (a forex advisor works itself)
Everything depends on who make the choice: a beginner or an advanced trader. There are many training causes aimed at teaching forex for beginners. However, what do a beginner trader need?
Beginners
For the beginning a trader does not need much, because the more information he tries to occupy, the more difficult it is for him to trade. So, it is better to keep to a medium- or long-term trading strategy. This relieves the emotional stress and keeps from making hasty decisions concerning when to close or open positions.
Besides, conservative tactic helps much in following the market without losses. It is obvious, that simple strategies have the clearest algorithm of trading (for instance, Bolinger's stripes or Japanese candlesticks). It is not recommended to use the Martingaile's method and tend to double positions in case of a loss. Besides, auto-trading should be priority. This approach will assist to lay the foundation for the future development.
Two months or so will be enough to settle on the market and gain self-confidence.
Advanced
Advanced traders usually do not need any advice, because they have already their own opinion and use several trading strategies and change them when the market changes. They always consult an economic calendar, and their strategies are:
all terms of trading (but short-term is the top one)

medium or aggressive trading (or their combination)

Martingail's method

combination of half-auto and manual trading
There are many affective strategies that can be used both by beginner and advanced traders and brokers, like channel forex strategy. However, everybody chooses what is the best for him.
---
---