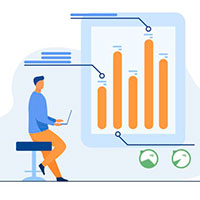 Success is what everybody wants when first enter the forex market. Just for success they do learn how to trade themselves, hire brokers and cooperate with each other. They try to invent some new option that will suit them perfectly and bring the maximum of profit. But what leads to success?
All traders in forex know that at the very beginning you should use the technique called "campfire". It means that a fire should be made from small brushwood and only with time bigger logs can be added. Otherwise it will not work. The same thing is with forex: when you just start, use a simple way and only with time develop your skills wider and deeper.
There are many indicators like "breakout", "scalper dream", "multicharts", "extremum", "OSMA", "price action" and so on. All of them were created to give opportunities to traders to work and reach better results. Of course, the best forex broker in USA knows how to use a combination of different indicators, but you may choose one or two that suit your particular demand.
Technical analysis
A trader or a broker can predict the profit more precisely in case of automatically tracking movements of options. Moving averages indicator is used for defining particular trends and the proper moment when to sell and when to buy. The scheme is intuitively clear and put in a table for convenience.
The relative strength index is usually used for currency and determines when the price is the lowest or the highest. Besides, it is best for reversals as the chart depicts any changes.
The distinguishing feature of Slow Stochastics is the presence of two lines signalizing a trader's entry and which way to move: buy or sell.
Forex glaz indicator aims at determining any movement of trend in the currency market. Besides, it shows when a trend changes its direction.
The main point
A trader may use one indicator or combine several of them, but without economic calendar he will have less chance to succeed. That is why it should be a handbook for all traders, regardless experience and skills.
A good calendar takes into account all significant events and accumulates experts' forecasts. It means that it provokes not only action at a given moment but also preparation for possible changes. In other words it is a chronology of global economic events happening online and at the same time a list of important forex news that are ranged according to the level of significance. All fundamental factors (like GDP growth, retail sales data, the consumer price index and so on) are published regularly and influence the national currency really much.
This economic calendar gives food for thought and ground for building profitable stratagies of trading. The best calendars are Teletrade, Investing, FXStreet, Instaforex as the events are published on the spot of the moment and the indexes are always up-to-date. Besides, they depict currency forecasts showing the most precise figures in currency pairs.
Success is in analysis
The uses of different technical software as well as forex indicators are very important. However, there is also fundamental analysis forex that allows seeing the system from the very heart and improve the profit from trading. The analysis can be in three variants:
Fre-made analysis:
Some brokers use all three variants and build a business on it. Broker companies hire experts who can make these analyses thoroughly. Sometimes such service is like a free bonus to attract more traders but sometimes it costs really much. It is obvious that even experts make mistakes but a trader should pay for these errors.
The most efficient variant is a self-made analysis. The following criteria may help to define whether there is a big trader online or not:
If the price is increasing together with the volume there is a speculator in the market.

If the price is increasing but the volume is reducing a crowd is buying.

If the price is dropping but the volume is still growing there is a speculator.

If the price is dropping together with the volume there is a crowd.
Note that if the price and the volume are growing it does not necessarily mean that a speculator is buying. It just means that a market maker is there and accomplishes some operation to increase the volume. In this case the main factor is experience.
As you see, it is quite complicated to adjust to every detail of forex market. Nevertheless, it is better to start with small and then move in the direction of growth. Of course, nobody can completely avoid mistakes, but these errors lead the most ambitious traders and brokers to great results.
---
---