26 October, 2017
The Bank of Canada raised the key interest rate twice this year. At yesterday's meeting, the regulator left the monetary policy unchanged. The key interest rate remained at the same level of 1.00%. The central bank announced that they won't rush to raise the interest rates in the nearest future. The regulator is going to assess the impact of higher interest rates on the economy of the country. These events triggered aggressive purchases of USD/CAD. The Canadian dollar weakened against the US dollar by more than 150 points.
Support for the US currency is provided by the positive statistics and growth of the US government securities yield. The U.S. 10-Year Bond Yield is at the 2.42-2.43% level now.
A series of optimistic reports on the US economy was published this week. The indices of business activity in the manufacturing and service sectors accelerated in October. The volume of orders for durable goods increased by 2.2% in September. It's higher than the predicted 1.0% value. Sales of new real estate increased by 18.9% to 667.000. Experts expected the decline of the index by 0.9% to 555.000.
The probability of increasing the Fed key interest rate in December 2017 exceeds 95%.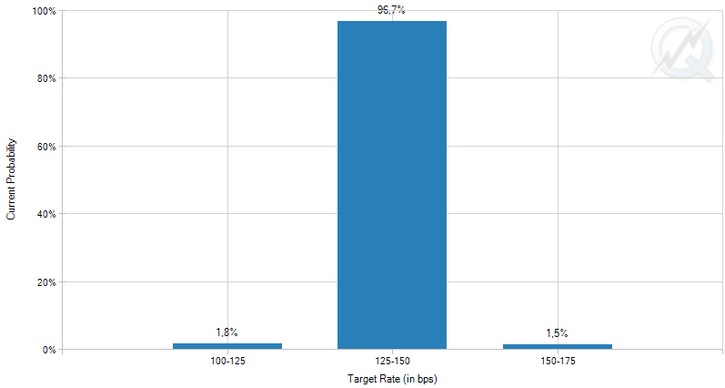 Source: cmegroup.com
Let's look at the current technical pattern on USD/CAD
Support levels: 1.27750, 1.27150, 1.26400
Resistance levels: 1,28150, 1.29000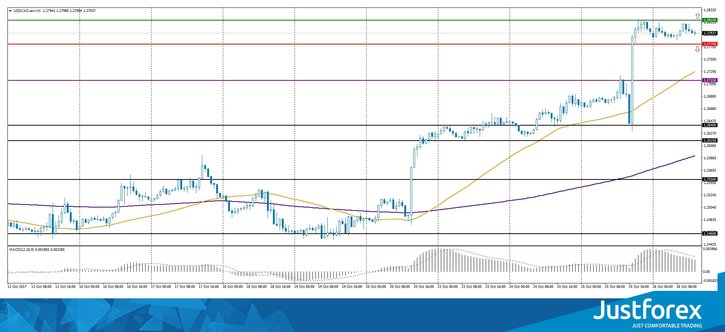 The USD/CAD currency pair is consolidating in the 1.27750-1.28150 range at the moment. The technical pattern is ambiguous. At the same time, USD/CAD has the potential for the further growth. I recommend opening positions in the current trend direction. Buying USD/CAD with the use of a trailing stop makes sense after the price fixes above the 1.28150 local resistance. The asset may move to the 1.29000 round level. When tracking the position, we recommend using a trailing stop.
An alternative option. I don't rule out a technical correction in the near future. If the pair fixes below the 1.27750 local support, it is advisable to open short positions. USD/CAD can move to 1.27300-1.27150.
---
Source link
Presented by
JustForex
---
---