Whether you're a newbie or an expert trader, it's worth using professional forex signals. Signals save you time and provide a higher chance of making a successful trade. Also, it's an opportunity to use others' wisdom to improve your skills or discover a new trading method. However, not all signals are reliable. Let's learn how to distinguish between a strong signal and a failing one. Whether you're a newbie or an expert trader, it's worth using professional forex signals. Signals save you time and provide a higher chance of making a successful trade.
Also, it's an opportunity to use others' wisdom to improve your skills or discover a new trading method. However, not all signals are reliable. Let's learn how to distinguish between a strong signal and a failing one.
Forex Signals: Definition
A forex signal is a recommendation to open a position based on particular conditions. Usually, signals occur in the currency market, but they can be provided in other markets as well. Signals can be made by professional traders, analysts or companies, and come free and paid-for.
A forex signal is a recommendation to open a position on particular conditions.
A forex signal includes information on the perfect entry point, take-profit and stop-loss levels. The best recommendations contain the reasons for the signal, giving you information on a profitable signal and the strategy or method an expert used. That helps you acquire new knowledge.
Why Choose FX Signals
There are several reasons why you should rely on signals and not merely your own decisions.
Expert opinions. If you're a professional trader, you can use forex signals to get confirmation of your opinion. Also, it's a great way to save time. If you're a beginner, expert signals will help increase the chances of obtaining a profitable position.
Gain knowledge. Whether you've just started trading forex or you've been in the market for an extended period of time, there are different approaches and strategies you can still learn.
Save time. Sometimes, it's not easy to find suitable circumstances to open a position, and you may waste lots of time trying to do so. Using other traders' signals saves you time for other endeavours.
What's Included in Trading Signals
Let's consider the points that are included in trading recommendations:
Entry point. As we mentioned above, a forex signal contains information about the entry point. It tells you at what level you should enter the position. Usually, professionals give signals for upcoming positions, so it's unlikely you'll see a signal that suggests opening a trade immediately because a trader may read the signal several hours after it's issued. Unclear conditions will lead to losing positions.
Take-Profit. It's not enough to enter a position at a reasonable level. You also need to know where to exit a successful trade. That's why the signal will contain a take-profit level. If the signal is promising, there could be several take-profit levels.
Stop-Loss. No matter how long you've been trading, there will always be a risk of loss. Even Warren Buffett and George Soros, two of the wealthiest and most successful investors in history, make mistakes. To limit losses, forex signals include a stop-loss level. If the market moves against you, you'll have a chance to save your funds.
Buy or Sell. Any decent signal should say whether to buy or sell the asset. Some alerts may have both an alert to sell and to buy. That means that the current situation is unclear. As such, the direction of your position will depend on the specific conditions that should be met for one of the signals to work.
Additional information. Usually, traders and analysts explain the reasons for a signal. Among the various reasons are pattern, candlestick or indicator conditions. This information may also include a chart.
Forex Signals: Types
There are different types of signals. Because there are two main types of analysis, we can divide signals into fundamental and technical. However, the most accurate signals are usually based on both types of analysis.
Fundament Signals
Fundamental analysis is based on news and economic data. Analysts who use fundamental analysis base their signals on economic data, as well as political and economic news. Thus, fundamental signals work ahead of significant market events. One kind of economic event that provides more precise signals is a central bank meeting. For example, if the Federal Reserve is anticipated to cut its interest rate, the US dollar will depreciate ahead of the meeting and for some time after the decision is announced. Therefore, the signal will recommend buying the EUR/USD pair.
Pros

Cons

Lots of opportunities. If you open the economic calendar, you won't find a working day without any release.

Unclear conditions. As the outcome of fundamental events is hard to predict, making fundamental signals is harder than making technical ones.

Moreover, most of the news and economic data is accompanied by high volatility. That's why it's hard to determine a stop-loss level. Sometimes, they're placed too close, and traders just exit a trade with losses.
Technical Signals
Technical analysis is based on historical price movements. Analysts use different instruments such as indicators, charts and candlestick patterns that predict the price's direction. Unlike fundamental signals, technical ones are often made by both analysts and forex bots. A forex bot follows algorithms that include particular conditions that signal possible entry and exit points.
Let's say, for example, that you're trading the GBP/USD pair. The RSI indicator predicts a price reversal, and its line has crossed 30 upward. That's a signal of a bullish movement, so the signal will recommend buying GBP/USD.
| | |
| --- | --- |
| Pros | Cons |
| Easier than fundamental signals. Technical analysis is more precise because it's based on particular conditions and previous market moves. Making a technical signal only requires learning how indicators and patterns work. | No feeling of market sentiment. It's efficient to consider previous market movements and base your signals on specific market conditions, but the situation never repeats itself exactly as it previously occurred. That's why it's essential to consider current events, as well. |
Manual Signals
Manual signals are made by people. Professional traders or analysts working for a company or on their own use their experience, knowledge and proven strategies to provide trading recommendations.
| | |
| --- | --- |
| Pros | Cons |
| More comprehensive analysis. People evaluate technical conditions, market sentiment and fundamental factors. This provides a more comprehensive picture of the market. | Chance of making a mistake. Although signals are provided by professionals, there's always the risk of a mistake because no one's perfect. |
Automated Signals
Automated signals are provided by software programmed with a specific algorithm that follows price movements and generates signals regarding particular circumstances.
| | |
| --- | --- |
| Pros | Cons |
| A smaller chance of a mistake. Bots are not affected by emotions, so they base their signals on calculated algorithms. | No sense of market sentiment. Bots don't consider fundamental factors crucial to decision-making. |
Paid Signals
Some companies provide paid signals. To get them, you need to pay a fee or choose a subscription plan.
| | |
| --- | --- |
| Pros | Cons |
| More reliable. There's no guarantee the signals you buy are better than free signals, yet you have the right to require a return if they lead to losses. | Money. You have to pay for these signals. |
| Constant. Usually, paid signals are released at a specific time, unlike free signals. | |
Free Signals
Most forex brokers offer free signals on their websites that are available to their clients and everyone else. Moreover, many famous traders publish trading recommendations on social media.
| | |
| --- | --- |
| Pros | Cons |
| Free. Evidentially, the main advantage of free signals is that you get a chance to earn money for free with no effort. | No guarantee. If you take signals for free, you can't require anything from a provider. |
| | No schedule. The provider decides when to deliver signals. |
Entry Signals
If we consider short-term signals, they always have an entry point. If you find a trading recommendation for the short-term position with only an exit level, it's more likely that the signal will fail because there's no clarity on the entry point.
| | |
| --- | --- |
| Pros | Cons |
| The main point. The entry point is the most critical level for successful trading. | There are no disadvantages to entry signals. However, if signals don't include information on the exit point, the risk of loss increases. |
Exit Signals
Usually, signals provide the entire range of information: the entry and exit points and the stop-loss level. However, if a position is held for an extended period of time, there can be signals with only an exit point on the current open trade.
| | |
| --- | --- |
| Pros | Cons |
| Additional signal. If you hold a position for an extended period of time, it's good advice on how to exit with a profit. | Only for long-term signals. Short-term signals without an entry point may just confuse traders and lead to failing positions. |
Where to Find the Best Forex Signals
Forex signals are available online, and you can find forex signal providers very quickly.
Forex Brokers
Most forex brokers provide signals, either free or via a paid subscription plan. If the broker is trustworthy, they'll offer a trial period to test whether the signals work. Plus, they may have a track record of successful trades that will confirm the alerts are workable.
The main advantage of this signal provider is that if you find a reliable broker you want to trade with, you don't have to waste time seeking a signal provider. Moreover, forex brokers may offer signals for free to their clients.
There are many signal providers. However, if your forex broker offers trading signals, that's the best option for you.
Specialised Companies
Also, there can be companies that provide paid forex signals. The main drawback you may meet is signals' effectiveness. Reviews will help you to evaluate their efficiency.
Bots
There are many companies and individuals that program bots for forex signals. However, these bots' services aren't free. Be careful before buying them because bots have many limitations. They don't evaluate market sentiment and don't consider fundamental factors. Check the signals before starting.
MetaTrader
If you trade on a MetaTrader platform, there are signal providers you can subscribe to. Moreover, you can implement bot algorithms that will alert you about profitable opportunities. MetaTrader allows many providers to submit their signals, so there's a risk of running into some failing recommendations.
Copy Trading
Another option that's similar to providing signals is copy trading. While using forex signals, you can decide whether to use the signal fully or not. If you have previous experience, you can take the signal as advice and modify it.
How to Choose the Best Signal Providers
It might be challenging to find a reliable forex signal provider as there are a vast number of companies, private analysts and investors in the market.
Confirmation
The first decision you should make is whether you're ready to pay for signals or not. If you choose paid recommendations, you can require information on the success rate. Moreover, a provider of paid signals should be authorised.
Whether the signal is free or paid, you need to get confirmation.
Even if you use free signals, a provider may share their signals' success rate by posting the performance of previous trades. If there's no information on a success rate, you can use a demo account to check whether the signals work. Libertex offers a demo account that's similar to a real one. You can trade on it with simulated money risk-free to see if the signals perform well.
Information
Before relying on a signal, check what data it includes. Reliable signals should consist of data onthe entry and exit points and the stop-loss level, along with an explanation of how the signal appeared on the chart. Bot signals don't provide an explanation; instead, their reliability is based on mathematical algorithms.
Reviews
If reviews are available, you can check them for the signal provider. However, only companies that specialise in paid forex signals will have reviews. If you're thinking about free alerts provided by a private analyst or trader, the chance to find reviews is smaller.
Check reviews and don't believe promises on enormous rewards.
Huge Rewards
Beware: the forex signals market is full of scams. If a provider promises enormous rewards, it's more likely a scam that wants your money.
Comparison
If you're not sure which signal provider is better, check their success rate and the range of information. If you don't get a full explanation of the reasons for a particular signal, there's a risk the signal won't work.
How to Use Trading Signals
To fully understand how to read signals, let's consider an example in which you want to trade the XAU/USD pair. The signal is: SELL 1.764; TP 1.759; SL 1.766.
Step 1. As you can see, the signal is to sell gold against the US dollar. The entry point is 1.764. So, you should place a sell order at this level.
Step 2. Place the stop-loss (SL). Since this is a sell signal, the stop-loss should be placed above the entry point.
Step 3. TP stands for the take-profit level. Place the take-profit or exit point below the entry level.
If the signal doesn't contain a chart, the written information may include details on the current price. When reading the recommendation, you'll understand whether the signal is still relevant or not.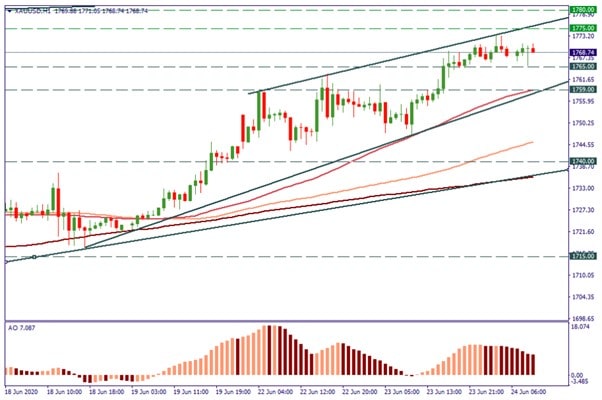 How to Choose Forex Signals
Signal providers try to create recommendations that suit a wide range of traders, but there are several rules you should follow to understand whether the signal suits your account and strategy:
Evaluate the risk. If the signal suggests holding a position for a long time, you should evaluate whether your account can handle possible market fluctuations.
Check before using. If you use bot signals, remember that they're based on technical analysis that doesn't consider fundamental factors, which may lead to high volatility, so check market conditions. Simultaneously, even if you rely on signals made by people, you should know that unpredictable news comes up frequently. The time lag between the signal and order placement may cost the success of your trade.
Choose preferable assets. There are lots of signals for different securities. However, not all of them will match your aims. For example, exotic currencies are not the best option for newbies as they bring high risks.
Trading Strategies and Forex Signals
As we mentioned earlier, the choice of trading signals depends on your aims and account. Moreover, different strategies may affect your decision. There are companies that provide signals only regarding a specific strategy.
Trading strategies have a big impact on FX signals.
Scalping
Let's look at scalping, for instance. Tiny positions are the core of this trading strategy. As such, signals for scalpers should apply to small timeframes, preferably no higher than one hour. Moreover, these signals will have a slight difference between the entry and exit points, and there may be several take-profit levels that will allow you to take profit step by step.
Intraday Trading
Intraday trading assumes you hold a position within a day and close it before the next trading day arrives. That means the trading signal should be based on medium-term timeframes such as one hour, four hours and daily. The difference between entry and exit points will mostly depend on fundamental analysis. If there are significant economic events or news, there might be a big difference between the points.
Swing Trading
In general, swing trading is based on technical analysis. The signal provider should find a prominent pattern or indicator that signals market fluctuations. Swing positions can be held for longer than one day, so the spread between the entry and exit points may widen significantly.
Conclusion
To summarise, a forex signal is a useful helper for both beginner and professional traders. It saves you time and effort and provides an opportunity to place successful trades. However, a considerable number of signal providers make it difficult to choose a reliable one.
So, to check whether the provider is trustworthy, try using a demo account. Libertex's demo account gives you the opportunity to test signals risk-free and at no charge to see if they work with a high success rate.
FAQ
Check out the answers to the most frequently asked questions about forex signals.
What Are the Best Forex Signals?
The best forex signals are provided by people and combine fundamental and technical analysis. The cost of signals doesn't matter because both free and paid alerts can be useful.
Are Forex Signals Legit?
Forex signals are legitimate and submitted worldwide. Signals can be provided both by companies and individuals.
What Is a Signal in Forex?
A forex signal is an alert to open or close a position based on market conditions.
How Do You Get Forex Signals?
To get forex signals, you can look for a forex broker, a company, analysts or traders who provide forex signals.
How Do You Analyse Forex Signals?
Forex signals are based on technical or fundamental analysis. They provide the necessary information on entry and exit points as well as the stop-loss level. When choosing a forex signal, consider your goals, funds and strategy.