Hopefully, when we compared the five best Forex Brokers with welcome/deposit bonuses in the industry to the ocean with black holes you didn't get the impression that this entire space is corrupt. On the contrary, the number of trusted Forex providers is so high that it was quite hard for us to gather the cream of the industry. However, we've managed to make the selection thanks to the application of the criteria listed below. Please note that Forex Ratings is not endorsing or shilling for any of the brokers mentioned here. You may apply these criteria to any other broker that fits your personal requirements with regard to the size of the initial deposit, jurisdiction, etc. We are going to outline these criteria first and then expand on the subject.
The criteria by which we have selected the five best Forex brokers with welcome/deposit bonuses
Regulation
The balance between broker reliability and bonus size
Deposit requirements
Additional features: trading tools and educational materials to facilitate better use of the bonus
Profit withdrawal conditions
First and foremost, all brokers on the list are fully licensed and regulated by a strict regulatory authority, such as the Cyprus Securities and Exchange Commission (CySEC), the UK's Financial Conduct Authority (FCA), or Mauritius Financial Commission (FSC). Very importantly, none of the featured brokers have had trouble with these or any other state financial institutions. In our book, reputation is the biggest asset for businesses and individuals alike. Don't allow yourself to get lured by big welcome bonuses or no deposit bonuses if the broker smells fishy:
Doesn't display a verifiable license number on the website
Gets criticized by former or current users on Trustpilot, and similar review platforms
Its customer service doesn't respond to simple inquiries
This selection of Forex brokers with deposit bonuses is balanced, meaning that there you won't find the ones that offer four-digit bonuses for registration without identity verification or other procedures required by the anti-money laundering regulation. It's not the bonus size that matters but the real possibility of it becoming a stepping stone on your path to consistently profitable Forex trading with the same broker over a long time. Loyal customers usually receive certain perks like trading fee deductions or exclusive customer service.
The minimum deposit has also been taken into consideration when picking the candidates for the list. Understandably, this material will catch the interest of mainly beginner traders who are probably not looking to invest large sums from the get-go. The deposit of up to $100 to Standard account is an adequate requirement – deposit thresholds to higher-tier accounts are greater. However, we should note that if you want to extract considerable profits using the bonus, you'd have to deposit more serious sums to be able to trade more lots.
The provision of access to highly-functional trading platforms (at least MetaTrader4 or the broker's proprietary platform) is another characteristic upon which we've based our choice. Add to that the breadth of educational material provided by the broker. It has less to do with the bonus itself and more with the overall user experience and the conditions that help in realization of your potential as a trader to the fullest. It's about whether or not the broker offers a means to extract the maximum profit from the bonus and the deposited money. At a minimum, a reasonable initial deposit, a welcome bonus, the knowledge, and the available trading tools should form a basis for a solid trading strategy that will serve well in the long run.
Lastly, we have given serious consideration to the methods of deposit and withdrawal of profits obtained from the use of the welcome bonus. As for deposits, the broader the choice of payment systems, the better. Obviously, deposit fees are very rare among foreign currency brokers so here, it all boils down to the choice and convenience of deposit methods. As for withdrawals of profits, the conditions vary significantly from broker to broker but rest assured that we picked the most favorable ones offered by the Best Forex Brokers.
Top 5 Forex brokers that offer welcome/deposit bonuses
---
OctaFX
About the broker: Obviously, there's no need to answer the question, "Is OctaFX a safe Forex broker?" This, and all other brokers on that list, tick all the necessary boxes with regard to adherence to regulatory requirements, funds safety, and user feedback; but allow us to elaborate on each of these points. OctaFX is the Forex broker that has been in the business for quite a while, having opened its main office in 2011 in St. Vincent and Grenadines. The broker holds the license issued by the Cyprus Securities and Exchange Commission (CySEC), a tier-2 regulator that is considered very reliable. According to the broker's own statement, it currently maintains over 10 million trading accounts from 185 countries. Please note that OctaFX isn't accepting traders from the United States.
This broker doesn't have a proprietary trading platform; instead, it gives access to MetaTrader4 (MT4) and MetaTrader5 (MT5), suited for beginner Forex traders, who don't want to mess around with complicated tools and algorithms, as well as for advanced currency speculators. Both platforms have all means necessary to create, test, and execute both basic and advanced trading strategies.
You may find a good deal of useful information on the topic of strategies and more in the "Education" section on the broker's website. OctaFX has two account types - OctaFX MT4 and OctaFX MT5 - both with a floating spread from 0.6 pips, no commission, and a leverage of up to 1:500.

Deposit bonus requirements: Opting for OctaFX means that you can begin trading foreign currency with a minimum deposit of $25. However, getting a deposit bonus requires a newly registered trader to commit at least $50, whereas the broker recommends the first deposit to be $100 or more. What's good about OctaFX is that apart from the usual Visa, Mastercard, and Skrill, this broker offers a lot of deposit options, including cryptocurrencies: Bitcoin (BTC), Dogecoin (DOGE), USD Tether (USDT), and Litecoin (LTC). The actual bonus is 50% of the deposited sum, credited instantly to the account of your choice.
Withdrawal conditions: OctaFX allows the withdrawal of a deposit bonus only on the condition that you trade a number of lots that is calculated through a simple formula. The sum of the bonus, i.e. $200 for a deposit of $400, must be divided by 2. Therefore, you'd have to trade 100 standard lots in order for the bonus sum to be allocated to your trading account. But remember that if your account balance becomes less or equal to the provided bonus, the bonus is going to be canceled.
---
XM
About the broker: XM is a multi-regulated Forex and CFD broker that opened shop in 2009, and began building its reputation from the very first weeks. Top-tier regulators such as CySEC, ASIC, and FSC have oversight of XM's operations. According to the broker's own estimates, it presently serves more than 5 million clients from across the globe, offering them access to as many as 13 feature-packed trading platforms and a breadth of educational materials. The broker has average trading fees, and a minimum deposit requirement of only $5, but it also imposes an inactivity fee. Also, be advised that XM does not provide investor protection for non-EU customers.

Welcome bonus requirements: XM offers an interesting welcome bonus structure that is accompanied by access to the XM Loyalty Program with its perks. As always, in order to become eligible for this Forex welcome bonus, you'd have to register a real account with this broker. With the registered and verified account, a new user gets full access to XM's excellent selection of foreign currency trading tools and educational resources, as well as access to the Members' Area where the user can control the bonus allocation and conduct withdrawals. Note that users who opt for the XM Ultra Low account aren't eligible for the bonus in question. The accounts that can participate in this program are Micro and Standard.
The bonus provision conditions differ from that of most brokers. Instead of making the welcome bonuses proportional to the deposit size, XM credits $10 for every lot traded within the designated period, which is 30 days from the date of account registration. The total welcome bonus is capped at $5,000. The bonus is calculated using a simple formula: the number of round-turn lots traded multiplied by 0.1 (for Micro account) or by 10 (for Standard account). For instance, 2,000 lots traded on a Micro account equals a $200 bonus (2,000x0.1=200).
Withdrawal conditions: As already mentioned, XM's welcome bonus remains active for a month from the date of account registration. However, the withdrawals of obtained bonuses can be made within 60 days. At any point during that period, you can redeem the allocated bonus sums through the Members Area. The funds are automatically credited to the trader's live account.
---
FXCC
About the broker: Even though FXCC isn't the biggest player in the Forex industry in terms of recognizability or the size of its customer base, it is rightfully considered an all-around good provider of financial services. Founded in 2010 by a group of industry professionals, FXCC presents itself as a trader-centric broker that ensures zero trading fees and full security of funds.
In our opinion, FXCC is a "cozy" broker, meaning that it doesn't offer an array of account types, trading tools, and promos but still provides a totally comfortable and secure trading experience.
There's only one account type available along with a single trading platform (MetaTrader4). The education section isn't the most extensive either. At the same time, we can't say that FXCC lacks something - it's simply the broker that caters to the needs of a certain type of Forex traders: those with some experience who are looking for a one-stop-shop with ultra-low fees and access to most popular markets.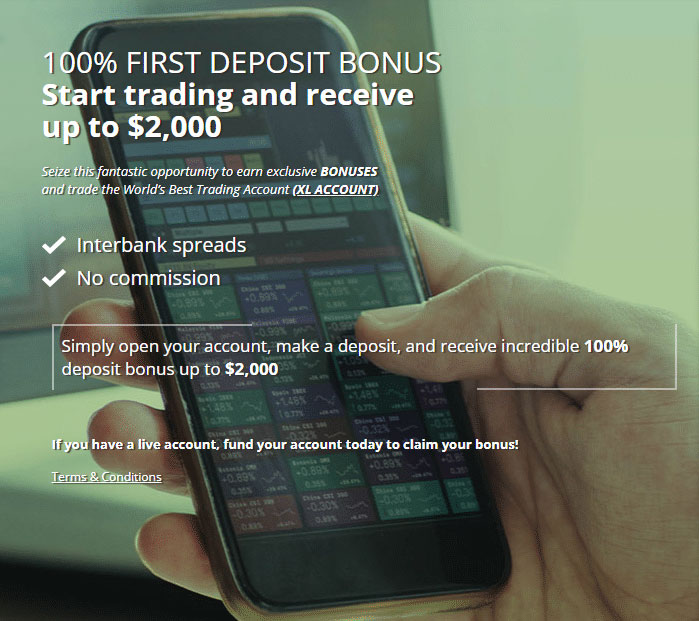 Welcome bonus requirements: Similar to the Forex broker reviewed above, FXCC offers a 100% first deposit bonus to those who pass the necessary verification procedure and register a live account. When it comes to FXCC, the choice of account type is limited to ECN XL, the only one available at the moment. There is another one called ECN Promo, but it remains in the works.
The XL account has zero spread, requires no initial deposit, and offers a leverage of up to 1:500 together with access to MetaTrader4. Moreover, it offers an ECN-type execution along with the hedging option and negative balance protection. Not bad, as they say, but a promising broker like FXCC must work on expanding the variety of accounts to suit all traders. With FXCC, a new user must apply manually for the welcome bonus via an email to the support team. The bonus should be credited within 24 hours of making the initial deposit. Note that FXCC's deposit bonus is limited to $2,000 or its equivalent in other base currencies (EUR and GBP).
Withdrawal conditions: The 100% welcome bonus from FXCC can be used for margin trading, which entails considerable risks for inexperienced traders. However, if you feel confident in your ability as a Forex trader and have a solid risk management strategy in place, FXCC could be a good deal for you. This broker allows free withdrawal to the mentioned trading account of all profits made using the welcome bonus. However, there is a condition that if the total account balance, including the floating profits and losses, drops to or below 50% of the welcome bonus amount, the credit would be automatically taken out of the account.
---
RoboForex
About the broker: We have placed RoboForex at the bottom of this list because of the regulatory matter as this broker is regulated only by one authority which is the FSC of Belize - not the strictest of all, to be honest. RoboForex's other downside is that it doesn't accept US citizens, but that is common among Forex brokers with the Belize license.
Apart from that, RoboForex is an excellent FX broker with a nice $30 welcome bonus. When it comes to RoboForex's strong points, the minimum deposit requirement is only $10, with a wide choice of trading platforms (MT4 & 5, eTrader, and proprietary software).
On top of that, the broker provides trading signals, around-the-clock support, and a demo account. This year, RoboForex was voted the Most Transparent Broker by World Economic Magazine, and we can confirm that RoboForex has always been open about its operations and wasn't involved in any dubious dealings.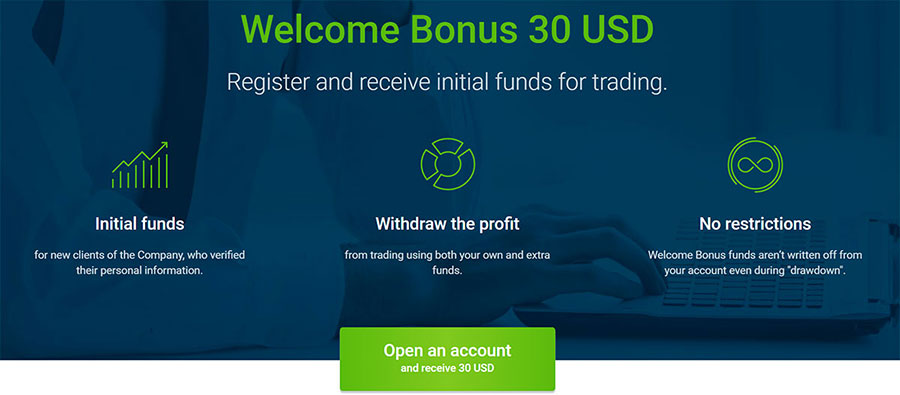 Welcome bonus requirements: Getting a welcome bonus from RoboForex is super easy: all you have to do is register a Cent, Pro Cent, Affiliate, or Pro Affiliate account, with USD or EUR as a base currency, and deposit as little as $10 via a bank card, other deposit means won't make you eligible for the bonus. Also, the welcome bonus can be made available only to the accounts that intend to trade with a leverage of no more than 1:1000. Once the bonus is received, you can add your own funds to build a larger position.
Withdrawal conditions: RoboForex states that all profits made with the trader's own funds plus the bonus can be withdrawn without limitations. However, if a trader experiences a drawdown, or a stop-out takes place, the lost funds, including a part or an entire bonus amount, would be deducted from the customer's own funds.
---
InstaForex
About the broker: InstaForex is an international brand created in 2007. The company provides services for online FX trading and is recognized as one of the world's leading brokers. We have won the trust of more than 7,000,000 retail traders, who have already appreciated our reliability and focus on innovations.
InstaForex priority is to provide the wide range of services to every customer at any stage of work from new account registration to money withdrawal. Trading conditions are rightfully considered to be among the best ones in the world. Traders have access to a great variety of financial tools numbered more than 300.
Clients are everything that matters to InstaForex. Focusing on their needs, we offer qualitative and superior trading services. Besides, we continuously improve technologies to maintain our leading position.

​
Welcome bonus requirements: InstaForex gives you a unique opportunity to get the 100% bonus on first deposit. You just need to open and top up a live trading account and fill in the application form. Bonus funds are not available for withdrawal and are credited to deposit up to $2000 but you can withdraw all the profit from these funds without any restrictions. To get the Welcome Bonus, you should activate your trading account through replenishing it with any amount in any convenient way. After the registration of the live account, you will be asked to fill in the application form for the 100% bonus and specify the details of your trading account. The 100% Welcome Bonus will be credited to your trading account automatically.
Withdrawal conditions: Unwithdrawable.
---
Bottom line: a welcome bonus can give a kickstart to your Forex trading career
Getting something for free is always a pleasant thing, whether it's an ice cream sample at the shopping mall or a welcome bonus given by a Forex broker. But whereas ice cream gets eaten and immediately forgotten, the deposit bonus can be very useful in the medium-term perspective. Basically, you get to beef up your starting capital with little to no obligation, which is a great bargain indeed.
Putting the welcome bonus to good use is a different thing, though. Here, it all depends on your skills as a Forex trader and the availability of extra capital that you most likely have to pump into the account in order to meet the withdrawal requirements with regard to lots traded in a designated period of time. This could be a tough task but not an unfeasible one. In any case, a welcome bonus is a very useful feat that shouldn't be ignored.