First things first, allow me to explain the meaning of a Forex no deposit bonus. As the name suggests, it's a small cash bonus allocated to newly registered trading accounts without the requirement to make an initial deposit. It is a traditional promotion tool used by the selected top 5 no deposit Forex brokers as well as many others that didn't get on this list for various reasons.
What is a Forex no deposit bonus?
Don't expect to get serious money, of course, as most such bonuses don't exceed $100, usually less. But even a modest sum like this is enough to connect with live foreign currency markets, acquire a taste for real trading, and even test one or two strategies. The key thing here is that a beginner Forex trader is allowed to make newbie mistakes without the risk of losing actual money. Therefore, a Forex no deposit bonus is more about having a safety net while learning the fundamentals rather than making serious profits.
A step-by-step guide to getting a no deposit bonus from a trusted Forex broker
Receiving the bonus in question is no more complicated than collecting a promo reward on any given online platform, whether is a Forex broker or a retail merchant. The most important thing here is to find a broker that not only offers a lucrative bonus but is also known for its trustworthiness. The history of financial markets knows many examples of when scammers baited gullible newcomers by offering enormous welcome bonuses and then disappearing into thin air with traders' personal data and the money of those who actually made a deposit.
Broker's reliability is of utmost importance
The first step is to carefully choose a Forex broker that offers the bonus. There's no point in getting involved with a provider that can't satisfy one's trading requirements in the long run. A bit of short advice on how to select a good Forex is as follows:
Always go for a broker with a good reputation, proved by its awards and other users' feedback;
Make sure that the broker is regulated by at least one financial authority, preferably a reputable one like the Cyprus Securities and Exchange Commission (CySEC);
Figure out which type of trading account is suitable for your future trading plans. Perhaps you'd like to start on a Cent account but consider switching to another one after a while. It's better to stick with one broker when doing so because of the possibility of getting certain loyalty perks;
Create a live trading account by visiting the corresponding section and providing the necessary information: full name, email address, telephone number, etc. To receive the welcome bonus, most Forex brokers require newcomers to go through the Know Your Customer (KYC) procedure and provide detailed due diligence information.
Once the identity is verified and the Forex account becomes functional, which usually happens instantly or within the next 48 hours, you are likely to quickly find the bonus program tab a button that reads something like "Claim No Deposit Bonus" - click on it to apply.
The bonus should be allocated to the account instantly. Some Forex brokers offer substantially larger bonuses for actually making the first deposit, even a small one of $10 - $25. For that, a new trader can receive a bonus of 3 times the initial deposit or more. But for the time being, let's focus on the best Forex brokers with active no deposit bonuses.
Top 5 Forex brokers that offer no deposit bonuses
---
InstaForex
About the broker: Established in 2007 as the InstaFintech group, InstaForex is confidently making its way to the top of the brokerage industry. The platform provides access to a variety of markets, from Forex to binary options. InstaForex offers a good selection of trading accounts: Insta.Standard and Insta.Eurica accounts as well as Cents accounts of the same type. The minimum deposit here is only $1 that can be made via bank card/wire transfer, Skrill as well as using cryptocurrencies. InstaForex is a multi-regulated Forex broker, licensed by the Financial Services Commission (FSC). The broker gives access only to the MetaTrader4 trading platform.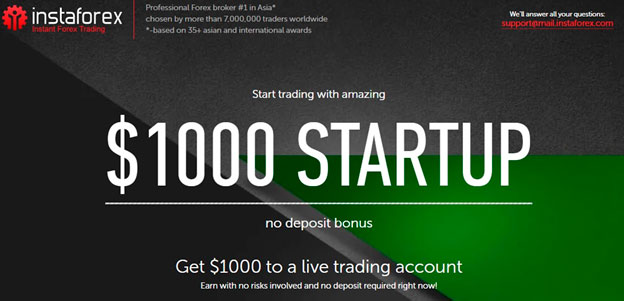 No deposit and other bonuses: InstaForex is placed at the top of this list for a reason as it offers a huge no deposit bonus of $1,000, also called the StartUp bonus, for registering a live trading account. Keep in mind that opening a demo account first will make you ineligible for the no deposit bonus. The first money deposit gets a newly registered user a 100% bonus. Each consecutive deposit brings a 30% to 55% bonus, depending on the leverage size.
No deposit bonus withdrawal: InstaForex does not allow withdrawals of the actual sum of the no deposit bonus, only the profit gained from trading with these funds. The bonus is canceled when real money is deposited into the account. In case real money isn't deposited to the account within a week of receiving the StartUp bonus, that bonus will be converted to a demo account and all profits associated with that bonus will be turned into virtual money.
---
FBS
About the broker: FBS is undoubtedly one of the top Forex brokers in Asia that boasts more than 70 international awards, including the Best Forex Broker in Asia 2020 and the Best Forex Broker Thailand 2021 & 2022. The broker received a license from the International Financial Services Commission (IFSC) and is regulated by the Cyprus Securities and Exchange Commission (CySEC) and the Australian Securities & Investments Commission (ASIC). It entered the industry in 2009 and gradually expanded its business network to 150 countries, now serving over 23 million Forex traders. FBS has one of the widest varieties of trading accounts, including Cent, Micro, Zero, ECN, and Crypto accounts, with minimal deposits ranging from $1 to $1000. Among the available markets are Forex (including exotic currencies), indices, precious metals, and crypto.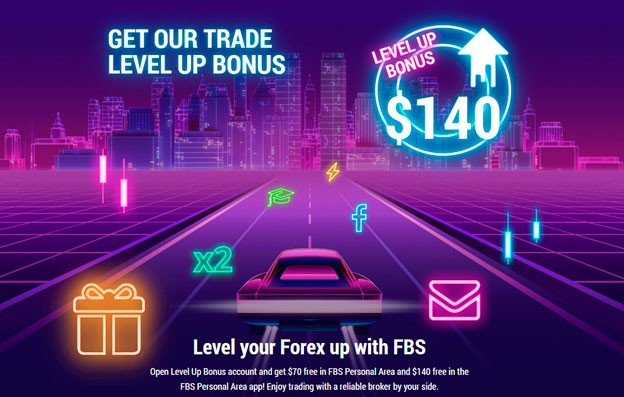 No deposit and other bonuses: FBS seems to have a smart marketing team that elaborated the approach that combines a free bonus with the promotion of the broker's proprietary trading application. The bonus in question - called the Level Up Bonus - amounts to $70, obtainable through registering the Level Up account with this broker. The bonus can be doubled to $140 if the account is registered via the mentioned mobile application that has over 10 million downloads on Google Play.
No deposit bonus withdrawal: Forex traders registered with FBS can try and generate profits with the provided free funds during the 20 days following the account registration. Once that period is over, users can withdraw the available funds using Visa, Neteller, Sticpay, Skrill, and Perfect Money. In my opinion, Perfect Money should be the preferred method due to its low commission (0.5%) and fast withdrawal time.
---
FreshForex
About the broker: FreshForex began its operations in 2012 as Riston Capital Ltd. under a brokerage license acquired from the financial authority of Saint Vincent and the Grenadines. The broker has more than 280 trading instruments as 8 asset types: Forex, stocks, crypto, etc. FreshForex allows users to conduct trading using both MetaTrader 4 & 5, which is convenient. It has three account types: Classic, Market Pro, and ECN, all without minimal deposit requirements.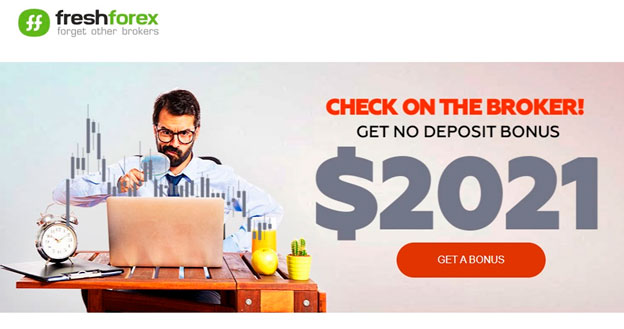 No deposit and other bonuses: Newly registered Forex traders can apply for a massive $2,021 welcome bonus. Surprisingly, identity verification isn't required to receive the bonus - it's available for all mentioned accounts.
No deposit bonus withdrawal: FreshForex lets the recipients of the no deposit bonus keep all the profits made with this money during the designated period. Those funds can be used to fund the trading account. Later, they can be withdrawn if, within the next month, the trading volume per each $5 of those profits corresponds to 1 standard lot.
---
eForex
About the broker: eForex is a broker with a solid reputation, headquartered in Tortola, British Virgin Islands. It holds a license from the British Virgin Islands Financial Services Commission (BVI FSC) and operates within the framework of the Business Companies Act of 2004. Here you can trade over 40 currency pairs and 10 CFD types with a maximum leverage of 400:1. There are 5 account types: Standard, Silver, Gold, Platinum, and Islamic, with minimum deposit requirements ranging from $200 to $2,000. But if you aren't ready to deposit just yet, eForex offers a welcome bonus for registering a new live account.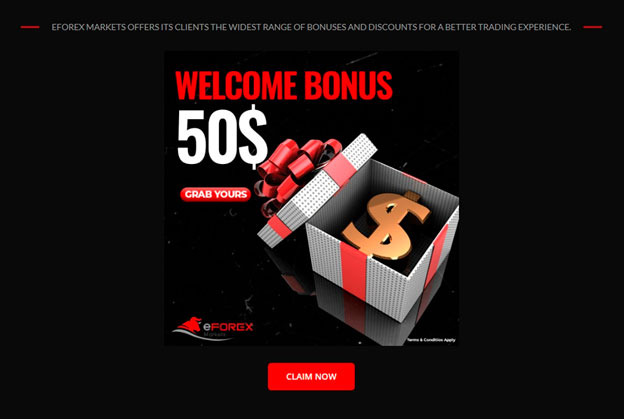 No deposit and other bonuses: The welcome bonus of $50 is allocated to new and fully verified Standard accounts. The verification requires uploading the scan of the government ID and proof of address. The broker allows using the leverage of up to 200:1 when trading with bonus funds.
No deposit bonus withdrawal: The $50 bonus remains valid only for weeks after account registration. When that period expires, the core sum gets deducted. The profits can be withdrawn only if a deposit of $200 or more was made during the designated period.
---
JustMarkets
About the broker: Rebranded from JustForex, JustMarkets is an award-winning broker with one of the broadest customer bases in Asia. The company, registered as Just Global Markets Ltd., operates under the Securities Dealer License issued by the Seychelles Financial Services Authority (FSA); it is regulated by the same government agency. JustMarkets has 7 account types, all with extremely tight spreads and a leverage of up to 1:3000.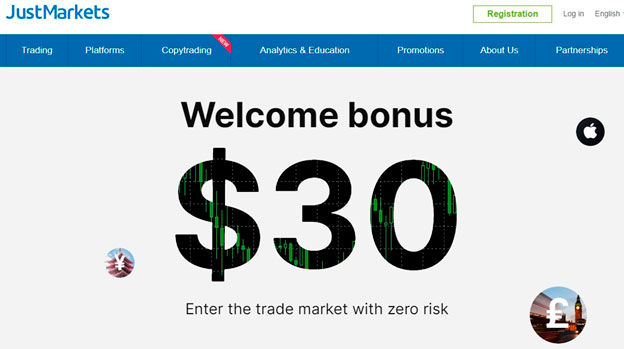 No deposit and other bonuses: JustMarkets offers a standard $30 no deposit bonus that's credited to the Welcome account accessible through the Back Office section. There is also a 120% deposit bonus and a $50 referral bonus.
No deposit bonus withdrawal: This broker allows the withdrawal of all profits made within a month to one of its trading accounts. The condition is to trade at least 5 lots with a 6-pips minimal profit or loss per transaction.
Bottom line: pros and cons of Forex no deposit bonuses
To summarize, the main benefit of no deposit bonuses is that they provide a viable opportunity to learn the fundamentals of Forex trading and get acquainted with trading terminals and other features of the broker's platform without risking your own funds. Also, the advantage of using free money to trade foreign currencies, or other assets, ensures that a novice trader won't have to face psychological pressure, or even frustration, from potentially bad trades. A welcome bonus is a fine tool to hone your profit-making and risk-management skills in a no-stress mode.
The main disadvantage of no deposit bonus is that most brokers impose very strict conditions with regard to the withdrawal of profits made with the provided free money for trading Forex and other markets.
Ultimately, you would most likely have to deposit your own money to supplement the trading account in order to meet those requirements, such as trading a certain number of lots within a relatively short time. As I noted at the beginning of this top 10 no deposit brokers review, this is a part of the marketing and customer acquisition strategy with the end goal to incentivize potential users to deposit real money, the more the better. All in all, you should utilize the benefits that come with a welcome bonus, but don't view it as a free ticket to riches.