The GBPJPY pair experienced a noteworthy slide below the 50-day Simple Moving Average (SMA) last week, a development that unfolded in the wake of the Bank of England's (BoE) unanticipated decision to maintain a stable rate. This moment of decline saw the currency pair seeking stability at the lower echelon of the Ichimoku cloud. Since this retraction, the GBPJPY has been navigating through a phase of directional ambiguity, raising the pivotal question—Is a bullish resurgence on the horizon?
Prolonged Uptrend & Subsequent Correction
The GBPJPY has witnessed a sustained uptrend since January, culminating in an eight-year high recording at 186.75 on August 22. This soaring trajectory was subsequently interspersed with a period of downside correction throughout the following month. This corrective phase seems to have reached a temporary pause, with short-term oscillators signifying a gradual resurgence of bullish pressures.
Potential Outcomes & Market Dynamics
Should the pair experience a northward shift and regain its positioning above the 50-day SMA, it could potentially encounter immediate resistance at the July peak of 184.00. Surpassing this threshold could propel the pair to revisit the high of 186.75, established as an eight-year record. A successful traverse of this landmark could pave the way for the attainment of new multi-year highs, potentially being moderated at the psychological mark of 190.00 to avert further escalations.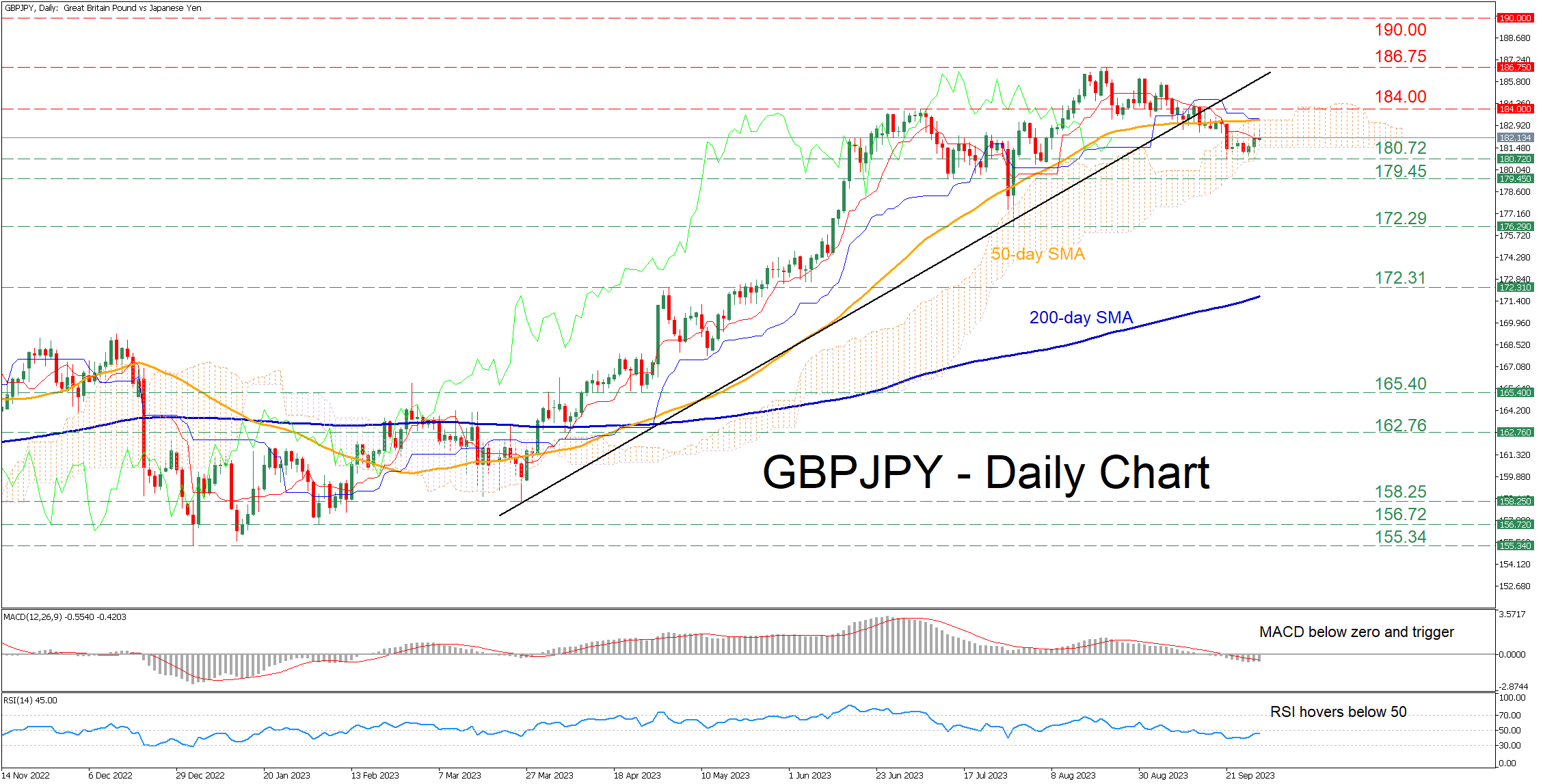 Conversely, if the market remains enveloped in selling fervor, a bearish onslaught targeting the recent support level of 180.72 could be a plausible scenario. Should this scenario unfold, the July defensive benchmark of 179.45 might emerge as a secondary cushion against further declines. A breach below this barrier might expose the pair to confront the July nadir of 172.29.
A Period of Caution & Anticipation for Investors
In summary, the GBPJPY is currently enveloped in a pronounced pullback phase, showing signs of waning momentum. However, a note of caution for the bullish traders resounds, emphasizing the necessity of witnessing the price surpass the 50-day SMA before cultivating optimistic anticipations. The ongoing consolidation post the pullback unveils a critical juncture, potentially dictating the future course for the GBPJPY pair. Market participants and investors are likely perched on the edges of their seats, meticulously analyzing the evolving market dynamics, ready to strategize their positions in alignment with the unfolding market narratives.
This phase of consolidation reflects not just the inherent market volatilities but also the broader economic interplays and policy-driven influences stemming from central bank decisions. It underscores the importance of strategic vigilance and a nuanced understanding of market oscillations for traders, serving as a reminder of the multifaceted nature of forex markets. The unfolding trajectory of GBPJPY could offer insightful glimpses into broader market trends, serving as a potential harbinger of overarching market sentiments and shifts.