Major stock market indices in the Asia-Pacific region predominantly signaled a decline on Thursday, with stakeholders avidly awaiting updates on Japan's inflation, unemployment rate, and industrial production. In tandem, a sudden halt in trading by two Hong Kong-listed branches of Evergrande Group, devoid of detailed elucidation, exacerbated the prevailing instability permeating China's real estate sector.
In Focus: New Zealand's Economic Scenario
The New Zealand Dollar exhibited resilience, orbiting around $0.5940 on Thursday following a downturn in preceding sessions. The nation's business sentiment witnessed rejuvenation in September, a phenomenon unobserved for 28 months, attributed to diminishing cost pressures. The Reserve Bank of New Zealand (RBNZ), contending with persistent inflationary pressures, is anticipated to adopt a hawkish tone in the forthcoming monetary policy discourse.
Subsequent to implementing 525 basis points of rate augmentations since October 2021, New Zealand observed a further retraction in consumer price inflation, cascading to 6% in Q2 2023, representing a 1.5-year nadir. However, it continues to transcend the RBNZ's standard target spectrum of 1% to 3%.
The ardent pursuit to culminate stringent tightening cycles resonates with numerous paramount central banks, reflecting global economic complexities. The juxtaposition of frail domestic demand against dwindling export demand underscores the multifaceted pressures beleaguering New Zealand's economy. Despite the economic conundrums, the New Zealand Dollar managed to withstand the repercussions from the declining Chinese economy and a 3.9% dip against the US Dollar in August, reflecting a semblance of economic tenacity.
The United States: Hawkish Pause and Economic Resilience
Contrastingly, the U.S. economy epitomizes strength, with the Federal Reserve maintaining interest rates, albeit projecting a protracted trajectory of rate elevations to realign inflation with the 2% target. The enduring robustness of the labor market and sustained consumer expenditure patterns reinforce the U.S. economy's steadfast growth, even amidst stringent monetary tightenings by the Fed.
Technical Analysis: NZDUSD Dynamics
The NZDUSD trajectory delineates a persistent decline, entrenched at the 61.8% Fibonacci Retracement level around 0.5900. The spectrum of consolidation for the pair manifests between 0.5859 – 0.6014. Given the extant downtrend and one working day impending in September, prognostications lean towards the emergence of a monthly doji candle.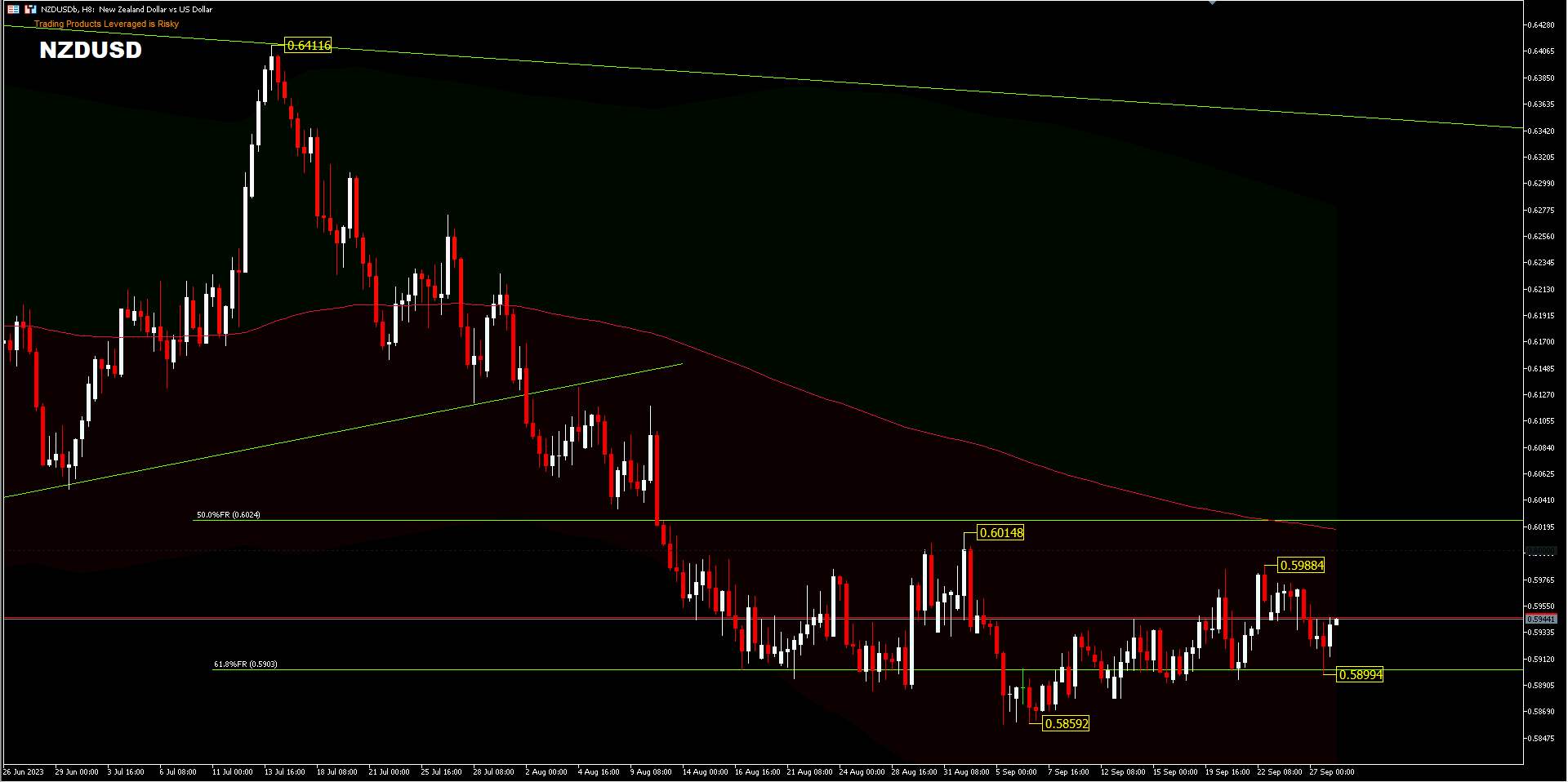 Australia: Consumer Spending and Inflation Trends
Australia's recent retail statistics sketch a somber panorama of consumer spending. August witnessed a marginal ascent in retail sales turnover to AUD 35.4 billion, with the increment failing to meet the market's anticipated surge. Inflation metrics in Australia delineate an upward trajectory, accentuated by escalating fuel prices, marking the inaugural acceleration in inflation since April.
The prevailing market conjecture aligns with a transitory inflationary increment, anticipating a sustained downward progression and projecting a possible rate elevation in May 2024. The Reserve Bank of Australia's (RBA) Governor, Michelle Bullock, accentuates a data-dependent approach to future rate decisions, maintaining openness to additional rate increments given the inflationary pressures.
Technical Analysis: AUDUSD Trends
The AUDUSD pair seems to perpetuate a bearish trend, signaling a possible continuation of the downturn from the 0.8006 peak. The trading within range persists, with a prevailing neutral intraday bias, and the possibility of a further downside exists, provided the 0.6510 resistance sustains.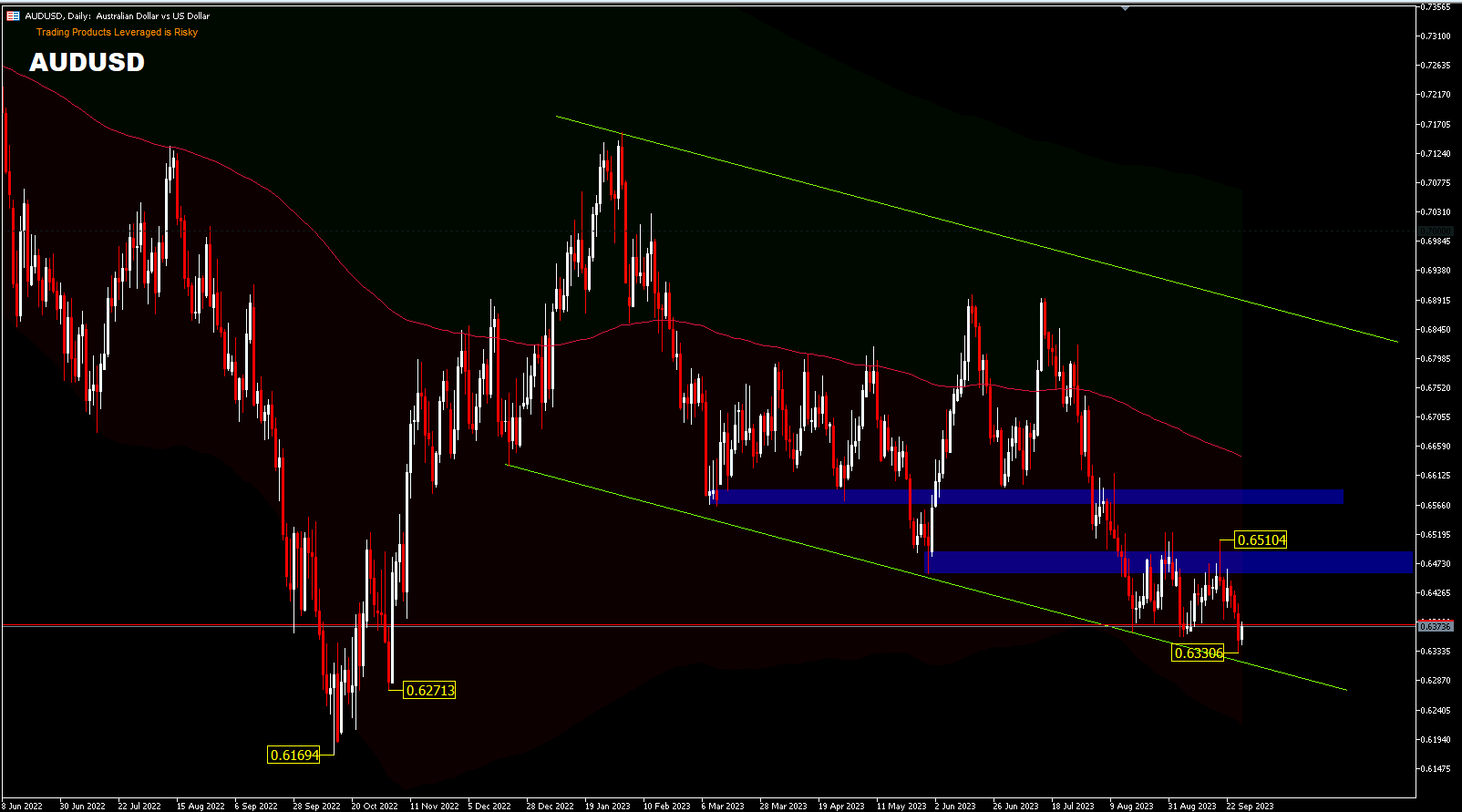 Concluding Reflections
As September veers towards its conclusion, the financial landscapes of the Asia-Pacific regions are fraught with uncertainties, economic pressures, and varying market dynamics. New Zealand and Australia grapple with inflationary concerns and shifts in consumer sentiments, while the U.S. presents a paradigm of economic resilience amidst stringent monetary policies. Investors and market participants need to tread with caution and strategic insight in these fluctuating markets, aligning their investment decisions with evolving economic narratives and technical indicators.