NEO isn't the most popular cryptocurrency, especially when compared to Bitcoin, Ethereum, Tether and Ripple. Currently, it's ranked only 26th by CoinMarketCap in terms of market capitalisation. NEO's price isn't as low as Ripple's or Tether's, for example, which means that the coin can be an inspiring investment, especially if its value sharply increases. NEO isn't the most popular cryptocurrency, especially when compared to Bitcoin, Ethereum, Tether and Ripple. Currently, it's ranked only 26th by CoinMarketCap in terms of market capitalisation. NEO's price isn't as low as Ripple's or Tether's, for example, which means that the coin can be an inspiring investment, especially if its value sharply increases.
Not many traders are aware of this cryptocurrency, so we decided to share its history and price predictions that will either confirm NEO's attractiveness or proclaim its end.
What Is NEO?
NEO is a blockchain launched by Da Hongfei and Erik Zhang in China, in 2014, as the first Chinese public blockchain. In the beginning, the cryptocurrency was called Antshares but was renamed after three years. Fun fact: NEO is considered the Chinese Ethereum as both projects were founded to contribute to a smart economy. The idea behind the project is to create a community of developers and build an infrastructure that will support the network and lower entry barriers worldwide. Additionally, operators of the NEO ecosystem have created the EcoBoost project to encourage people in designing smart contracts and decentralised apps.
If you're familiar with cryptocurrencies, you know that a network usually develops one coin to provide its operations. NEO has two currencies: NEO and GAS, and they serve different purposes. NEO was launched for people to vote for blockchain improvements. On the other hand, GAS allows one to pay fees for transactions done on the NEO network.
The proof-of-stake principle allows traders to earn GAS using NEO by just keeping NEO in official wallets. If you deposit NEO into your wallet, you get GAS coins. During NEO's ICO, 50% of the tokens were sold, while the other 50% were shared among the NEO Council. The NEO project was designed as a "rapidly growing and developing" ecosystem. And it follows its aims. As a result, the NEO coin can be an attractive investment. Let's look at NEO's price movements.
NEO Price: What Affects Its Direction?
You won't find any NEO predictions that are 100% accurate. That's impossible to do as the world changes daily, and the price is subject to many factors. That's why you should know the events that affect the price direction to correct NEO price predictions relative to the current market situation.
General Crypto Trend
The general trend of the cryptocurrency market affects the movements of each coin. To follow it, consider Bitcoin price moves as the leading crypto asset. If the medium- and long-term trends are bullish, NEO's price will likely rise, and vice versa.
Regulation. Although China is one of the most progressive countries, its crypto regulation is tough and affects both the development of Chinese crypto assets and the overall market trend. As a result, we recommend following crypto news that covers regulation issues.
Developments. The project's team aims to constantly advance the NEO network. Its development attracts the attention of traders, large investors and companies, leading to a bigger number of agreements and further blockchain growth.
How NEO Performed in the Past
Before considering price outlooks, we should investigate NEO's historical performance. First, it'll show us what factors affected the price in the past. Second, we'll be able to measure the price fluctuations to understand how far NEO may go. Though the project was launched in 2014, NEO's price has only been considered since 2017 because that's when it was renamed.
During the ICO in August 2017, the token was sold at $0.0320. However, on 15 January 2018, the price had already skyrocketed to $198.20 on Bitfinex. The overall cryptocurrency bullish trend caused a sharp increase. Imagine how lucky those who participated in the ICO were at that time!
The coin's current price is $24.43 on Bitfinex. However, the rate's decline isn't only related to NEO. Most cryptocurrencies have lost value since the beginning of 2018.
Price Movements in 2020
Let's take a closer look at NEO's price in 2020.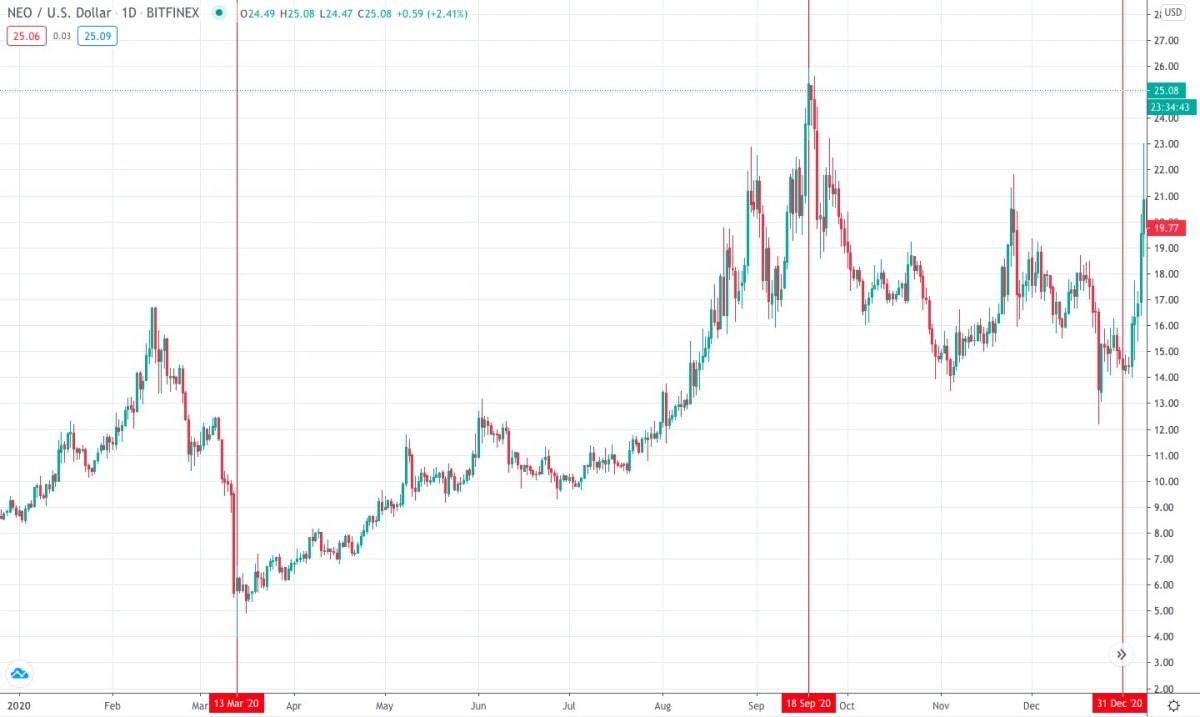 NEO's price in 2020
At the beginning of January 2020, the coin was below $10. In the middle of February, the price doubled. From mid-February to mid-March, the bearish trend pushed the price to $4 (13 March marked the year's lowest point). The next bullish trend started only in July and pushed the cryptocurrency to $25.90 as of 18 September. Then, the price moved down again and reached $14. Until the end of the year, it suffered ups and downs but finished 2020 near $14.
If we compare NEO/USD and BTC/USD's price movements, we'll see that NEO's price mostly repeats the major trend exhibited by the BTC/USD pair. It's not a surprise that cryptocurrencies usually follow the direction of BTC/USD, but we can still notice some differences in the pairs' directions.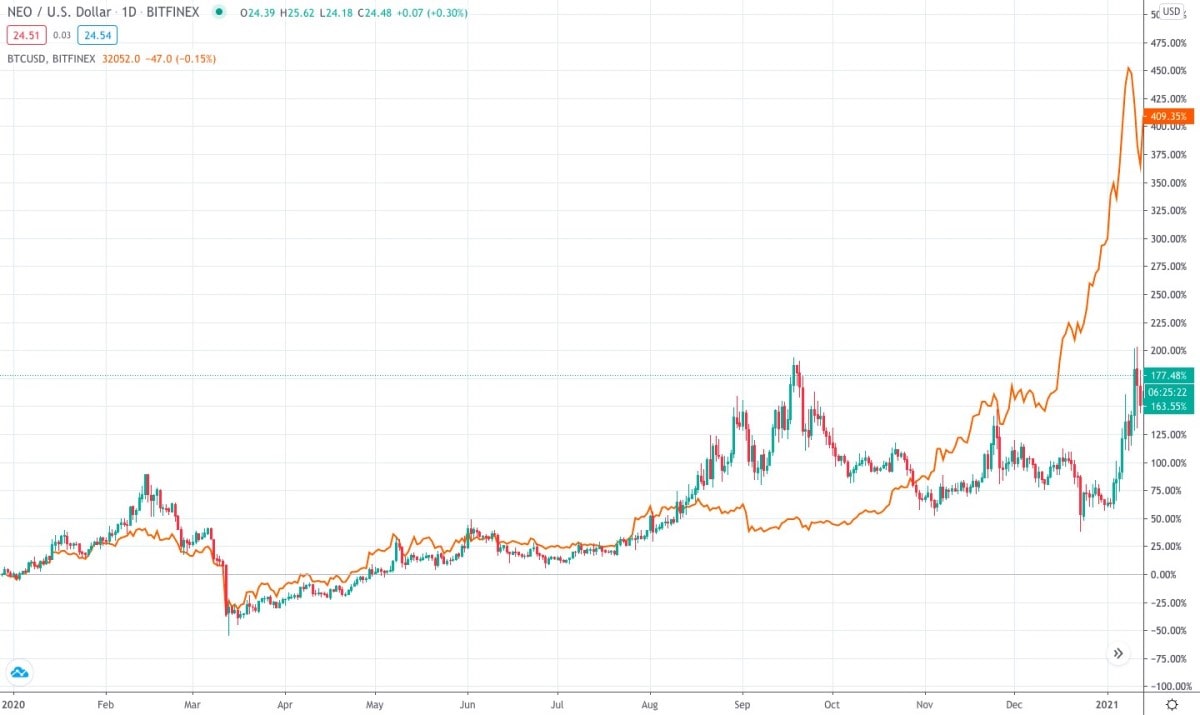 NEO compared to BTC
There was a bullish trend of NEO/USD from July to September 2020. At that time, BTC/USD was flat. Bitcoin's uptrend started in October, while NEO/USD suffered a bearish trend until November. Such differences usually happen due to the internal project's events. For example, at the end of July 2020, NEO created a partnership with the blockchain-based Services Network. BSN is a global infrastructure that creates a digital economy by offering a cheap platform for blockchain projects and similar companies.
You could notice that the price of NEO was highly volatile during the year; it jumped from $5 to $25, meaning that it may fluctuate significantly in upcoming years.
How Is NEO Doing Now?
NEO started 2021 at a humble $14 price point, but in February, it entered a pretty impressive ascent all the way to $54.61. From that point, the value continued growth until $118.06 on 18 April. A sell-off dumped the price before it climbed back to $122.68 on 6 May.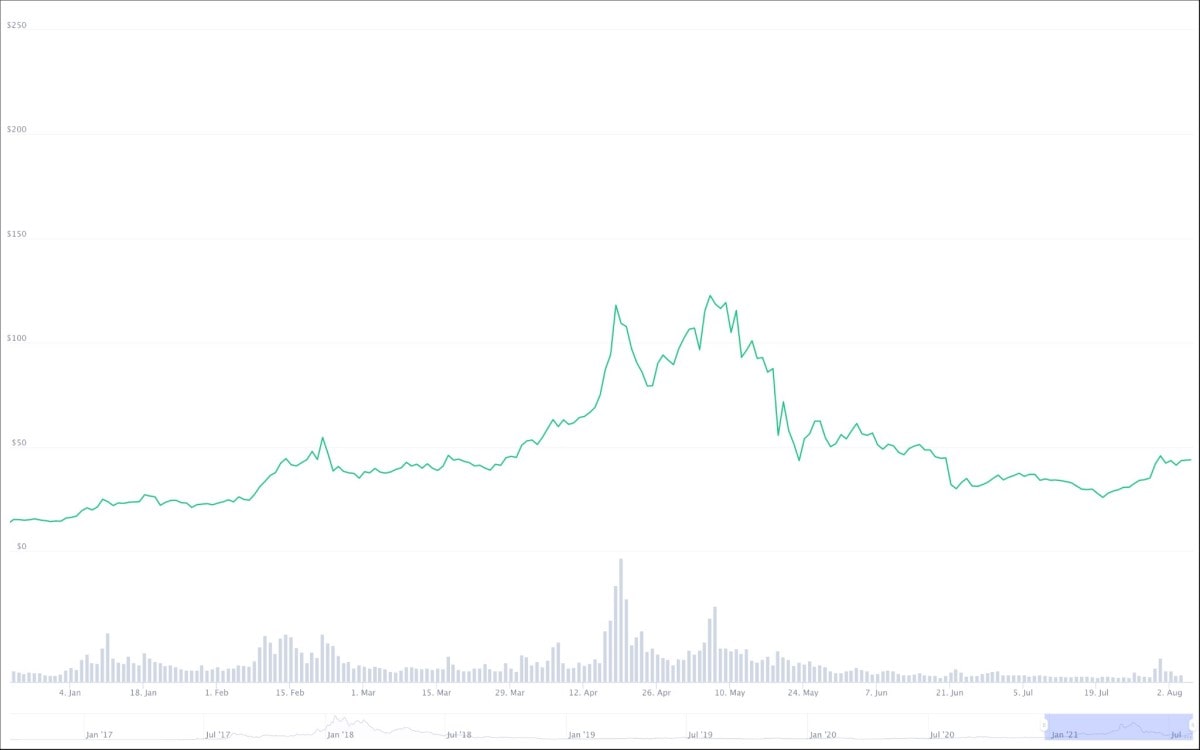 NEO's price in 2021
Over the course of summer, NEO declined in value. It was no longer trading over $100, and since mid-June, it hasn't been able to reach the $50 mark. The coin may recover, but it would take some big news from the project and an influx of trading volume. Currently, NEO ranks 34th on CoinMarketCap.
NEO Price Prediction for 2021
NEO can be considered an exciting investment. The project has been developing regularly. We expect a continuous increase in NEO's value. So, we recommend considering different experts' predictions to have a comprehensive picture of upcoming price movements.
WalletInvestor: WalletInvestor believes that NEO's price will grow steadily this year. In mid-September, the price may fall below $40. Still, in a month, it'll return to $41-$43. Then, the uptrend may take off, and we'll see NEO around $45-$50 in November-December. Until the end of the year, the price will move to $60, and some closing prices may even reach $80. We've taken the average prices. However, as the price is highly volatile, NEO can cost from $20 to $70-$80 (the minimum and maximum prices, respectively) within the year.
CryptoGround: CryptoGround doesn't provide monthly projections. However, in one year, the coin is expected to be at around $70.
Previsioni Bitcoin: This website sees NEO skyrocketing to $100 by the end of 2021.
TradingBeasts: This platform has one of the more conservative outlooks for NEO in 2021. The cryptocurrency is supposed to trade within a range of $30-40 during the rest of the year.
Long Forecast
Long Forecast sees a more volatile picture for the near future. Look at the table below.
| | | | |
| --- | --- | --- | --- |
| Month | Open | Low-High | Close |
| August 2021 | $45.77 | $38.64-$77.14 | $62.96 |
| September 2021 | $62.96 | $50.69-$78.14 | $73.03 |
| October 2021 | $73.03 | $73.03-$90.64 | $84.71 |
| November 2021 | $84.71 | $66.18-$84.71 | $71.16 |
| December 2021 | $71.16 | $55.59-$71.16 | $59.77 |
NEO Price Prediction for 2022
If you're considering longer-term investments, check these forecasts.
WalletInvestor: The WalletInvestor platform has rosy predictions for some periods in 2022 while also expecting a price drop towards the end of the year to around $39. The average rate is much higher. At the beginning of the year, the price will move to $80 and higher. However, the second half of the year will be less shiny.
TradingBeasts: This website doesn't expect a significant rise in 2022. The average price will stay below $45, although it may surge slightly above $55. At least, NEO won't plunge below $235, staying in the range of $37-$43.
CryptoGround: According to this source, the bullish trend will prevail for NEO's price. The cryptocurrency will be able to surge to $100 and more by the end of 2022.
Previsioni Bitcoin: Previsioni Bitcoin thinks the price will fluctuate during the year. Still, it will reach a new high of almost $190, ending the year near $130.
Long Forecast
The platform has more bearish predictions compared to other sources. The price will stay in the broad range of $75-$100.
| | | | |
| --- | --- | --- | --- |
| Month | Open | Low-High | Close |
| January 2022 | $59.77 | $59.77-$74.18 | $69.33 |
| February 2022 | $69.33 | $69.33-$86.05 | $80.42 |
| March 2022 | $80.42 | $80.42-$99.82 | $93.29 |
| April 2022 | $93.29 | $93.29-$115.80 | $108.22 |
| May 2022 | $108.22 | $84.54-$108.22 | $90.90 |
| June 2022 | $90.90 | $90.90-$112.82 | $105.44 |
| July 2022 | $105.44 | $82.37-$105.44 | $88.57 |
| August 2022 | $88.57 | $75.03-$88.57 | $80.68 |
| September 2022 | $80.68 | $80.68-$100.14 | $93.59 |
| October 2022 | $93.59 | $93.59-$116.16 | $108.56 |
| November 2022 | $108.56 | $92.65-$108.56 | $99.62 |
| December 2022 | $99.62 | $99.62-$123.65 | $115.56 |
NEO Price Prediction for 2023-2025
It's unlikely the cryptocurrency will disappear after 2022. That's why we decided to consider long-term projections that will show you what you should do with the coin in two to four years.
WalletInvestor: The overall trend for the NEO/USD pair is bullish. The average price grows from year to year. In 2025, it might even reach an average of $180. At the same time, the highest price will peak at around $260.
TradingBeasts: Here, the outlook isn't as positive as other predictions. Still, the cryptocurrency will cost enough to invest in it. The average price in 2023-2024 will stay around $40. The maximum price won't skyrocket but will reach $44 in 2024, and the minimum price won't fall below $30.
CryptoGround: The website provides a rosy forecast for NEO. The price will keep rising, reaching $200 at some point in 2025. You should understand that the price will go up and down within these years, keeping the bullish trend.
Previsioni Bitcoin: This source provides predictions only for 2023. Previsioni Bitcoin believes the price will suffer mid-year in 2023, and the bearish trend will prevail. As a result, NEO will cost $117 in December 2023.
Long Forecast
This platform has the weakest outlook for the coin in 2023 and 2025.
| | | | |
| --- | --- | --- | --- |
| Month | Open | Low-High | Close |
| January 2023 | $115.56 | $115.56-$143.43 | $134.05 |
| February 2023 | $134.05 | $104.72-$134.05 | $112.60 |
| March 2022 | $112.60 | $102.81-$118.29 | $110.55 |
| April 2023 | $110.55 | $110.55-$137.22 | $128.24 |
| May 2023 | $128.24 | $110.97-$128.24 | $119.32 |
| June 2023 | $119.32 | $97.60-$119.32 | $104.95 |
| July 2023 | $104.95 | $104.95-$130.26 | $121.74 |
| August 2023 | $121.74 | $98.11-$121.74 | $105.49 |
| September 2023 | $105.49 | $82.41-$105.49 | $88.61 |
| October 2023 | $88.61 | $69.22-$88.61 | $74.43 |
| November 2023 | $74.43 | $74.43-$92.38 | $86.34 |
| December 2023 | $86.34 | $80.22-$92.30 | $86.26 |
Fast-forward to 2025, we have another prediction from Long Forecast, which isn't as promising this time.
| | | | |
| --- | --- | --- | --- |
| Month | Open | Low-High | Close |
| January 2025 | $45.31 | $35.40-$45.31 | $38.06 |
| February 2025 | $38.06 | $32.70-$38.06 | $35.16 |
| March 2025 | $35.16 | $35.16-$43.65 | $40.79 |
| April 2025 | $40.79 | $40.79-$50.63 | $47.32 |
| May 2025 | $47.32 | $47.32-$57.67 | $53.90 |
| June 2025 | $53.90 | $42.11-$53.90 | $45.28 |
| July 2025 | $45.28 | $39.19-$45.28 | $42.14 |
| August 2025 | $42.14 | $42.14-$52.30 | $48.88 |
| September 2025 | $48.88 | $48.88-$60.67 | $56.70 |
NEO Price Forecast for 2030
Such forecasts are the most uncertain and complicated because the price of NEO is highly volatile. As plenty of factors affect its direction, all the projections are approximate and made just to show the future trend. Before using these forecasts, you should check the current price and apply technical and fundamental analysis.
According to CoinSwitch, cryptocurrency has excellent potential. The source believes the NEO community will increase significantly, as will its adoption ratio. There's a chance the coin will be among the top 10 digital currencies. By 2030, the cryptocurrency may skyrocket to new highs. In the end, NEO will cost $400, despite small losses.
Technical Analysis of NEO Price
Although you can use price forecasts of analysts and other traders, it's worth knowing how to predict the price direction using technical analysis. If you've ever done technical analysis of other securities such as fiat currencies and stocks, you'll succeed with cryptocurrency analysis. Here are several steps you should take:
Find the long-term trend on higher time frames.
Place support and resistance levels.
Use such indicators as Awesome Oscillator, RSI and MACD. They help define the reversal points.
Find candlestick and chart patterns. They'll provide additional confirmation for the signals given by the indicators.
Remember that the success of technical analysis depends on the timeframe you use. Short periods will provide you with the price direction for the upcoming hours, not months. If you're looking for the longer-term price direction, use daily, weekly and monthly timeframes.
NEO Experts: NEO Expert Predictions
It's essential to have NEO price predictions on the coin's price. But what about the thoughts of experts and investors about cryptocurrency?
Brian Evans, Angel Investor, Advisor, Blockchain Evangelist, said: "The big move for NEO is creating an entire smart economy. It has incorporated digital assets, smart contracts and a digital identity that can be used for real-world applications and become integrated into the real economy. China could (and may) be a candidate for that first real-world application and integration".
Rakesh Upadhyay, a crypto analyst, expects a bullish trend for NEO's price due to a $100 million EcoBoost fund launch.
Da Hongfei, NEO Founder and Onchain CEO, in a 2020 interview with Blockchain.News: "The most anticipated milestone is definitely Neo3. We're launching the Neo3 testnet before the end of this year and are planning to release the mainnet in Q1 2021.
As a total revamp of the current NEO blockchain, Neo3 is a robust implementation towards a digital asset platform that will provide high throughput, enhanced stability and security, an optimised smart contract system, and a feature-packed infrastructure set to empower developer adoption and accelerate enterprise-grade blockchain innovations".
NEO - Trade or Invest: Libertex's Outlook
| | | |
| --- | --- | --- |
| Year | Mid-Year | Year-End |
| 2021 | $36.52 | $50.08 |
| 2022 | $57.89 | $75.26 |
| 2023 | $92.19 | $90.59 |
| 2024 | $97.29 | $109.80 |
| 2025 | $122.15 | $128.83 |
| 2026 | $140.42 | $146.79 |
| 2027 | $157.80 | $168.72 |
| 2028 | $179.57 | $190.34 |
| 2029 | $172.59 | $181.73 |
| 2030 | $190.82 | $199.86 |
Above, you can see the average forecast for NEO's price in the upcoming years. According to the predictions by famous crypto experts, NEO is an attractive investment. The NEO network is developing daily, meaning that the cryptocurrency will rise in value as the growth of the NEO community, an increase in the number of agreements and implementation of the system worldwide will raise its popularity.
Still, cryptocurrency is highly volatile. Its price can skyrocket from $2 to $50 within a month. If you consider NEO as a long-term investment, it may lead to losses in the future. The price changes significantly. So, if you buy it at a low price now, it doesn't mean that NEO will cost more when you want to sell it.
Another option is to trade NEO via CFD with Libertex. A CFD trading allows you to buy and sell a cryptocurrency anytime you want. You can potentially succeed no matter if the price goes up or down. Before you enter the real market, Libertex provides a demo account that gives you a chance to trade at the actual market conditions but with fake money and fake gains. Here, you'll master your trading strategies.
FAQ
Let's sum up what you've learned from this article.
What Will NEO Be Worth in 2021? The projections differ, but the average price within the year is predicted to fluctuate between $40 and $50.
Is NEO Worth Investing in 2021? The bullish potential hasn't ended. It makes sense to invest now and wait until the price reaches new highs.
Does NEO Have a Future? The coin has a future for sure. Although the price is highly volatile, the NEO project develops daily, promising to gain more potential in the future.
Can NEO Reach $1,000? According to NEO expert predictions, it's unlikely the cryptocurrency will reach $1,000 anytime soon.
Who Owns NEO? During the ICO, 50% of coins were shared between the NEO Council; another portion was distributed to people.
How Much Will NEO be Worth in 5 years? According to CryptoGround, the price might be $177 by 2026.
Will NEO Cryptocurrency Recover? There's a bullish trend for NEO's price now.
Is NEO Coin Dead? The NEO project is growing daily and isn't going to disappear anytime soon.