Cryptocurrency CFD trading, particularly with leverage, has garnered significant attention in recent years, and Dogecoin is no exception. When you trade DOG/USD with a reputable forex broker, you gain access to a regulated environment for leveraging your trades in the exciting world of cryptocurrencies. While seasoned forex and CFD traders have long been aware of the potential offered by cryptocurrency CFDs, a new wave of traders entered the financial markets through cryptocurrency exchanges like Coinbase, Binance, and Kraken.
However, it's essential to recognize that trading cryptocurrency CFDs is not the exclusive domain of exchanges; it can also be conducted through reputable forex brokers.
Understanding Dogecoin: From Meme to Mainstream
Dogecoin, often affectionately referred to as "Doge," has made a remarkable journey from its humble origins as an internet meme to a mainstream cryptocurrency. It gained widespread attention in 2021 when its price experienced a meteoric rise. In January 2021, Dogecoin began the year trading at approximately $0.005 (half a cent) and astonishingly surged to $0.74 by May 2021, representing a staggering gain of over 16,000%. Currently, Dogecoin ranks as the 12th most traded cryptocurrency, accounting for 1% of the total crypto market capitalization.
Ironically, Dogecoin was initially created as a satirical dig at the speculative nature of the crypto market. Despite its creators' intentions to mock wild speculation, Dogecoin has emerged as a favored asset for trading. The coin's name and branding are derived from the viral "Doge" meme featuring a Shiba Inu dog.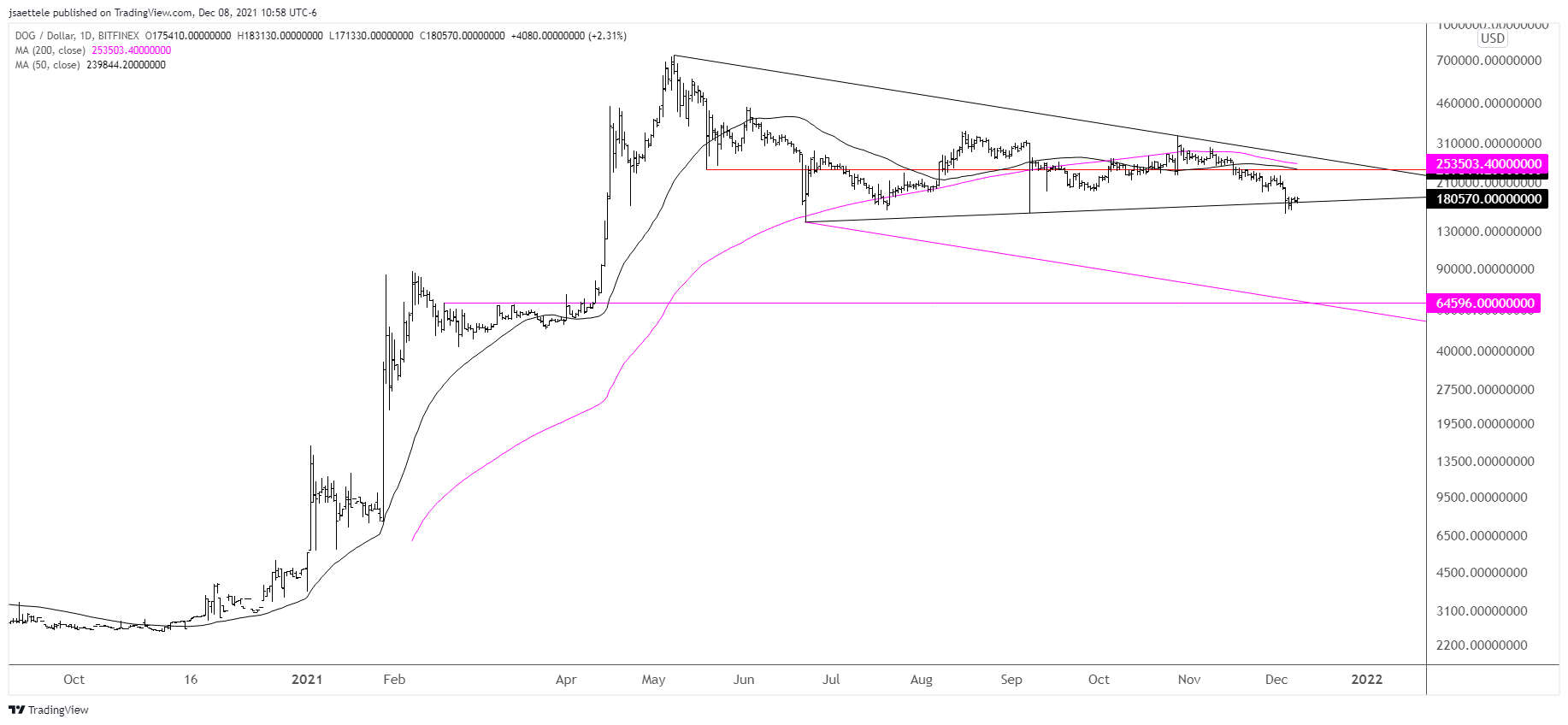 Key Insights into Dogecoin:
Dogecoin is pronounced as DOHJ-koyn or DOHZH-koyn, not DOGGY-coin.
Created in 2013 by software engineers Billy Markus and Jackson Palmer.
Market sentiment and fundamentals, such as high-profile endorsements, significant purchases, and influential figures' public statements, drive Dogecoin's price rallies.
DOG/USD reached an all-time high of $0.7364 on May 8, 2021, with a market capitalization exceeding $95 billion.
Over 132 billion Dogecoins are currently in circulation.
Dogecoin is ranked 12th in terms of market capitalization.
It is a fork of Litecoin, utilizing the efficient sCrypt algorithm.
Dogecoin does not have a hard cap on the total number of coins to be issued, with miners receiving 10,000 Dogecoins per block.
Dogecoin blocks are processed at one-minute intervals.
Predicting Dogecoin Price Movements
Forecasting Dogecoin price movements can be challenging due to limited relevant market data for conducting effective technical analysis. The coin's low trading volume and the fact that it did not surpass one cent until January 2021 make long-term technical analysis difficult. Market sentiment plays a significant role in driving Dogecoin's price. Traders frequently share their analyses and outlooks on social media platforms and online communities. However, influential figures like Elon Musk and Mark Cuban exert the primary influence on Dogecoin prices.
Fundamentals also impact DOG/USD, especially news related to adoptions, such as Tesla accepting Dogecoin as payment for merchandise and AMC Theaters embracing Dogecoin for digital gift cards via BitPay Wallet.
While market sentiment and fundamentals drive Dogecoin's price rallies, technical analysis still plays a role. The descending triangle pattern on DOG/USD, for example, suggests a potential downside resolution. However, traders should be cautious and consider potential bounce opportunities as long as support levels hold.
Who Should Trade Dogecoin?
Trading Dogecoin appeals to traders who thrive on its aggressive price rallies and volatile movements. However, success in Dogecoin trading necessitates in-depth research, a strong grasp of the market, and effective risk management techniques to navigate its substantial price swings. It's important to note that Dogecoin trading, particularly with leverage, comes with increased risks. Volatility can lead to significant losses, and traders must employ robust risk management strategies.
While Dogecoin's dramatic price fluctuations are enticing, it's crucial to remember that volatility can swing in either direction. After reaching its all-time high in May 2021, DOG/USD plummeted by nearly three-quarters in just two weeks.
Trading Dogecoin: Buying vs. CFDs with Leverage
There are two primary methods for trading Dogecoin: buying and holding the asset through cryptocurrency exchanges or trading it using Contract for Difference (CFD) instruments with leverage.
Buying and Holding Dogecoin: This approach involves purchasing Dogecoin on cryptocurrency exchanges, storing the coins in a wallet, and waiting for their value to increase before selling for a profit. However, this method lacks the ability to open short positions or apply leverage.
Trading Dogecoin with Leverage: Alternatively, traders can choose to leverage their Dogecoin positions using CFDs. CFDs enable traders to go long (betting on rising prices) and short (betting on falling prices) with the potential to profit from both uptrends and downtrends. Leverage allows for increased exposure, but it also entails higher risks.
Trading Dogecoin CFDs has several advantages. It does not require holding the cryptocurrency on an exchange, reducing the risk of hacking or the need for a personal cryptocurrency wallet. Furthermore, CFD trading enables traders to hedge their Dogecoin holdings against potential bearish movements using short positions.
However, it's important to note that trading with leverage carries higher risks, and margin trading can result in substantial losses, particularly in volatile markets like cryptocurrencies.
Conclusion: Mastering Dogecoin Trading with Leverage
While many forex and CFD brokers initially introduced cryptocurrencies like Bitcoin and Ethereum, few included altcoins such as Dogecoin in their offerings. Scandinavian Capital Markets stands out by providing over fifty cryptocurrency CFD instruments, including DOG/USD. For those looking to practice trading cryptocurrencies, opening a demo trading account with Scandinavian Capital Markets offers an excellent opportunity to gain experience and explore the world of cryptocurrency trading.