tixee is an online trading brokerage that offers a one-of-a-kind trading experience, prioritising the best possible service, support, and education. While our headquarters are based in Cyprus, we provide international services across several jurisdictions around the world. Our company was created on the belief that the financial markets should be accessible to everyone, regardless of their unique needs or financial goals.
We've been chosen by more than 155,000 clients based in over 115 countries and we're continuing to grow, forging a path as a unique service provider in the competitive CFD industry.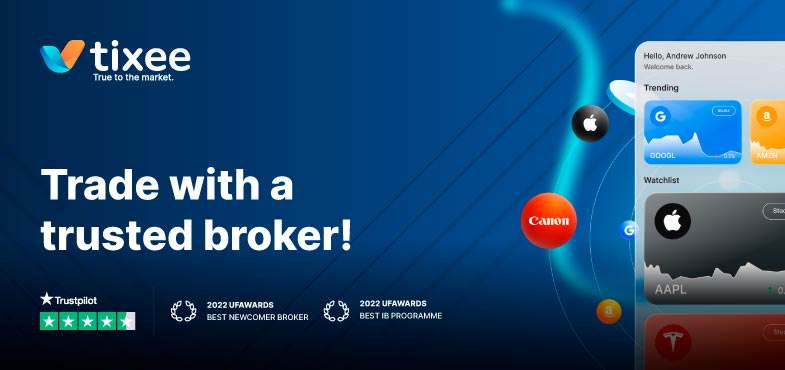 What does tixee trade?
We offer user-friendly, flexible, and customizable platforms to trade leveraged CFDs suitable for traders of all abilities - whether you are just starting out, or have years of experience. With 220+ CFD assets to trade and several platforms, we've got something for everyone.
Platforms
MT4 & MT5 - tixee clients can trade on the world-renowned MT4 and MT5 trading platforms. The platform has a user-friendly interface for beginners while having the tools to enable more experienced traders to create and develop complex trading strategies. Our customers can trade a wide range of markets, including forex, metals, indices and commodities. Automated trading and expert advisors are supported.
Web Trader – This simple-to-use, easy-to-view platform has all the tools and information needed in a clean and straightforward layout. As well as one-click trading and a comprehensive charting package, a range of orders such as stop losses and limit orders are also available.
Simple Trader – This trading platform was made with beginners in mind. It has all the tools and reveals vital market info in a clear, user-friendly layout to help new traders get up to speed with the financial markets at their own pace.
Mobile Trading – Trading no longer has to be done in front of a computer. The tixee mobile app allows traders to access the full range of services through the app, straight from their smartphone. This includes the ability to buy and sell in real-time, as well as access a range of time frames and multiple technical indicators.
Social Trading
We also offer social trading. Users can either follow the trading strategies of others or provide trading strategies to be followed. Social trading enables less experienced traders to trade and learn by copying what other successful traders are doing, while experienced traders can earn performance fees and potentially boost their own income.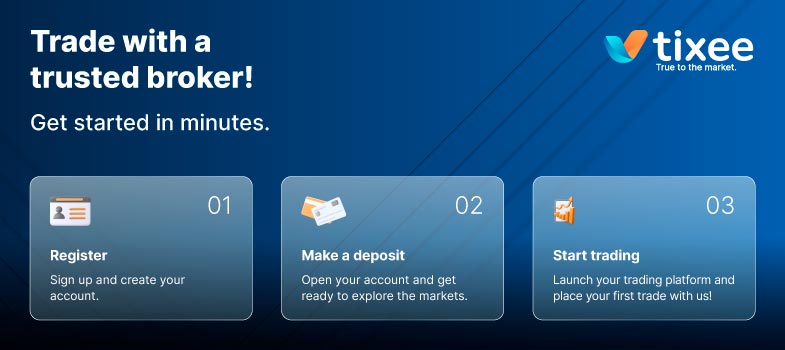 What is a CFD?
tixee is a CFD (Contract for Difference) provider. When you trade CFDs, you don't own the underlying asset. Instead, you trade the price movement. So, you make or lose money depending on whether the price moves in your favour or against you. There are several advantages of trading CFDs over owning the assets. These include the ability to trade using leverage - although if this is not managed correctly, leverage can be a disadvantage.
Another benefit of CFDs is you'll also have the ability to open a Sell position or a Buy position; which means if you think that the price of the underlying asset will drop, you may go short and potentially generate profit from a falling market. Some markets, like the FX market, are open 24 hours a day.
What can I trade with tixee?
tixee offers CFDs on FX, commodities, indices, cryptocurrencies, metals and some stocks.
Leverage. tixee offers leverage up to 1:500 on most of its instruments. Leverage is important when trading CFDs and spreads because it enables a larger market exposure with a smaller deposit. This means that a big trade can be taken with less initial capital. While this means that profits could grow quickly, it can also result in losses building up fast.
Fees. Fees are an important part of trading. Trading is like a business, and costs need to be monitored. Our trading fees vary depending on what is being traded and the type of account. Spreads start at 1.5 and on the Standard account, and from 0 on the Raw (our most popular!) account.
Why trade with tixee ?
We're proud to offer exceptional service, education, and support to its clients. Our friendly Customer Support team is on hand 24/5 to answer any questions or address any concerns you might have. They speak a wide variety of languages and are based in several different time zones to ensure that there is always someone on hand to help.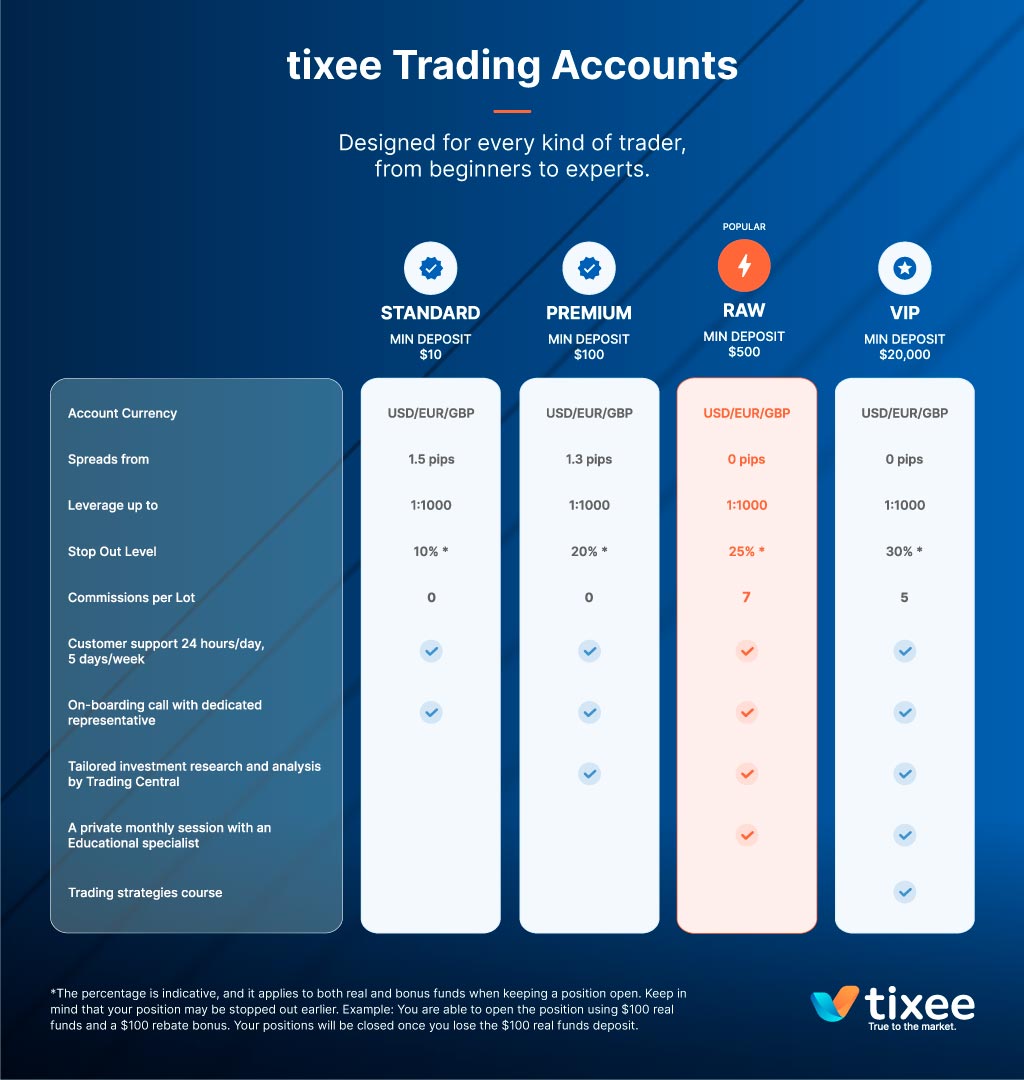 Funding your account is simple, with many different ways to transfer money into your account - including bank transfer, credit, debit card and e-wallet options. Our minimum deposit starts from $10 on the Standard account - a great way for new or less experienced traders to begin.
Education and Tools
Educating our customers is of crucial importance to us here at tixee, which is why we offer a wide range of educational resources including daily market updates, eBooks, and social media live streams to help our client base to boost their knowledge. That's not all - we also have a valuable collection of analytical resources including financial news, real-time markets news feeds, tixee's economic calendar and customised tools from Trading Central.
tixee's Global Head of Market Research, James Trescothick, runs free weekly regular webinars which can be registered for through the client portal. These webinars aim to broaden your knowledge and build strong foundations for your trading strategy. If you miss a webinar, copies of the recording are available.
James also presents tixeeLive!, a daily online stream held throughout the European and US open addressing breaking news. He also answers your trading questions live.
Licensing and Regulation
At tixee, we prioritise transparency and our clients' peace of mind above anything else. We're licensed by three of the highest-tier regulatory bodies, including the Financial Services Authority Seychelles (FSA) and the Financial Sector Conduct Authority (FSCA). We uphold each and every regulatory procedure to safeguard our clients' funds and privacy. Alongside Negative Balance protection and client fund segregation, we also deliver round-the-clock security with state-of-the-art safety protocols so our clients can trade confidently.
*Trading is risky.