Whether you are an experienced trader or just starting your trading journey, there is something for everyone at tixee. Here we look at why trading education is crucial, and the different tools we offer to help deepen your knowledge and boost your practical skills. As with any form of trading, education is key to progression.
Why is education important?
This is especially important when trading leverage, which means that you can trade larger market positions with less capital. While this potentially opens the door to larger profits, it also means that you could be exposed to larger losses. Learning the theory, followed by a period of practice, can help you eventually create a successful trading strategy and one that works for you.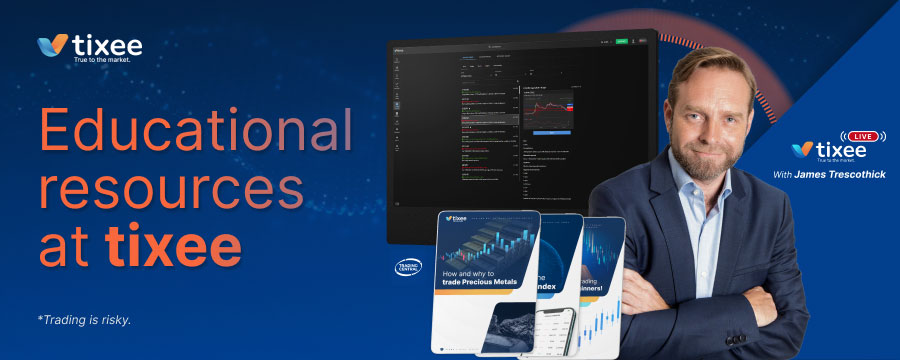 tixee educational technical analysis program
One way in which tixee really stands out from its competitors is through our free educational course offered after opening an account. This course can be accessed using the dashboard on the tixee portal. It is led by internationally recognized financial analyst Martin Pring, who guides you through the fundamentals of technical analysis in a series of 31 videos. The course is divided into three modules:
Basic Building Blocks
Interpreting Charts
Trends and Key Levels
Each module comprises a series of short videos explaining topics such as moving averages, support and resistance, and a detailed look at candlestick patterns. The course is more focused on the technical side of trading rather than fundamental analysis.
This program also comes complete with online quizzes so you can test your knowledge, recognize your strengths and identify any gaps in your understanding.
Demo Account
A demo account is a simulated market environment that allows users to experience trading without using real money. This means you can get familiar with the platform, and the way trading works and also get a feel for different markets. However, you don't gain or lose real money when you trade on the demo account, as you trade with entirely virtual funds. You'll also be practicing under genuine market conditions.
Our demo trading account has unlimited free access to a wide range of instruments including CFDs on indices, forex, shares, and commodities. Demo accounts aren't just for newcomers. More experienced traders often return to demo accounts to try out new strategies, ideas, or tools. This type of trading is often referred to as paper trading. The demo account can also benefit those switching from another platform, giving tixee a test run before transferring accounts.
The tixee demo account gives you a maximum of $100,000 with which to explore trading at your own pace, in complete safety.
Webinars
tixee's free exclusive webinars enable you to broaden your knowledge and gain helpful insight. tixee's Global Head of Market Research, James Trescothick, presents topics such as "Understanding Moving Averages," "Understanding Chart Patterns," and "The Mind Behind the Market '' to name a few. You can save your spot at these webinars through our portal. If you miss a webinar, the recording is also available online. In addition to the presentation, there is also a live Q&A session where you can drill deeper into the subject or ask any questions you might have.
Ebooks
Ebooks are the perfect way to delve further into an area of trading that interests you. tixee offers all of its traders' access to a number of Ebooks through the platform. These Ebooks include '10 Effective Trading Strategies for Beginners', which covers different trading strategies and explores which may be the most suitable trading strategy for you. Another popular Ebook of ours is 'Basic chart analysis'. This Ebook is perfect for beginners interested in using and interpreting charts and chart patterns. There are also deep dives into specific markets, such as 'How to trade the NASDAQ100 Index' and 'How and Why to Trade Precious Metals'.
tixeeLive!
tixeeLive! is both a trading and educational resource. These daily live sessions are hosted by our Global Head of Market Research, James Trescothick, who takes you through the live market openings, sharing his deep knowledge of the financial markets and analyzing the latest macroeconomic data in real-time.
Additional resources
We offer three different account types. Depending on the account you open, there could also be additional educational resources.
Standard account
Premium account
Raw account
VIP account
Higher-tier accounts benefit from access to tailored trading insights, as well as interactive sessions with our education specialists.
What now?
If you already have an account with tixee, log in and familiarise yourself with all the resources available to start trading or to tweak your trading strategy. If you haven't yet opened an account with us, what are you waiting for? You can get started with just $10!
The process is simple and takes just a few minutes. Follow the steps below:
Click the Open Account button, and choose your account type.
Go through the registration process, providing us with the necessary information.
Once the registration is completed, verify your account and start trading!
*Trading is risky.