The crypto market has been torn, rising over 2% in the last 24 hours to $1.076 trillion. The excitement came after the approval of the Ethereum Futures ETF from Valkyrie, which will be available for trading from Friday. It's not the victory everyone expected, as they were waiting for a long list of spot Bitcoin ETFs to be approved. But the positive news coincided nicely with a rebound in equity markets and a corrective decline in the dollar, adding fuel to the fire.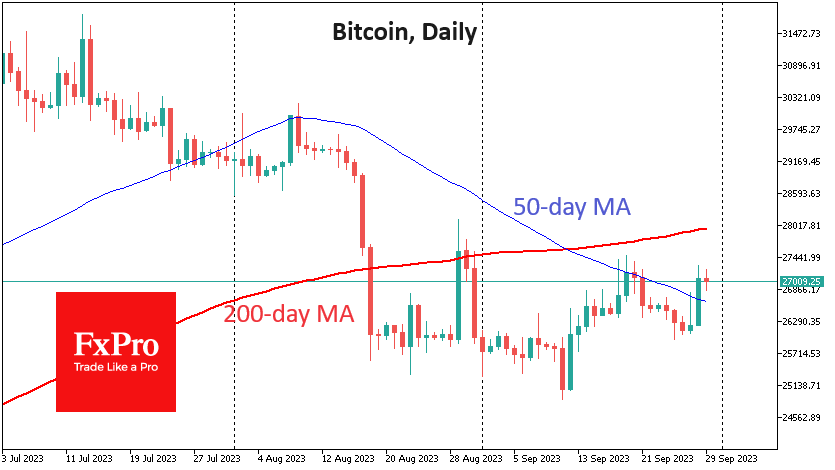 Bitcoin surged above $27K on Thursday, gaining over $800 (3.2%). The momentum allowed it to climb above its 50-day moving average, something it has been unable to do since early August. The ability to hold levels above this curve will be the first confirmation of a change in trend and will turn observers' attention to the 27.5 area, where the previous local highs are located. In our view, a move above $28K will attract even more buying interest.
Ethereum gained over 3.2% in 24 hours, briefly topping $1685, its highest level since late August. Technically, it has managed to reverse the downtrend, boosting optimism for Bitcoin and the entire crypto market.
News Background
The SEC postponed a decision on applications to launch a spot Ethereum ETF from 21Shares and VanEck until the end of December. The regulator said it was "appropriate" to delay the applications to give it time to review the matter. Ethereum blockchain developers have launched the Holesky test network at the second attempt, after a failed attempt on the anniversary of The Merge update. The new test network is intended to replace Goerli, which has been running since 2019 and whose support will end in early 2024.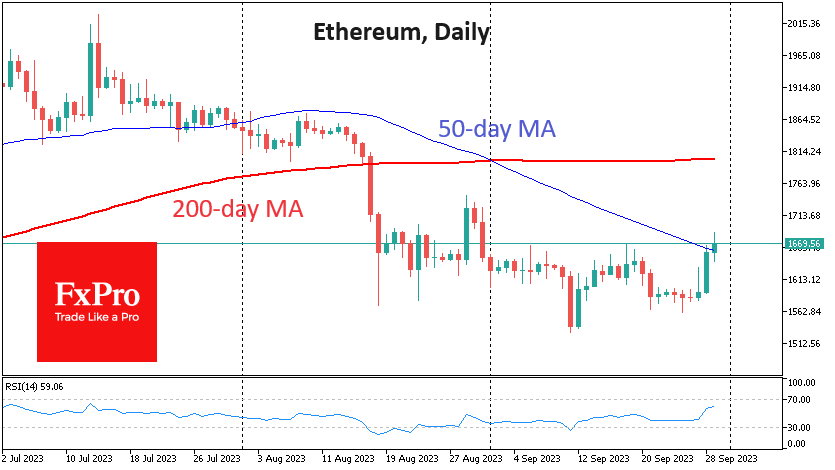 ​
Paysafe Payment Solutions, a euro payment provider, has stopped working with Binance. Industry participants have begun preparing for the collapse of Binance, writes the Wall Street Journal. If the leading crypto exchange collapses in the short term, liquidity in the market could evaporate, leading to a sharp decline in cryptocurrency prices.