The crypto market lost ground throughout Tuesday but has been attempting to turn around since Wednesday morning. So far, it seems to be following the sentiment of the stock market, which is trying to recover from the previous day's sell-off. Despite Tuesday's pressure, bitcoin has remained in an uptrend for the past week. But the bears aren't giving up their red lines either, as BTCUSD remains below its 200-day moving average at $28,000. The ability to consolidate above it could trigger an intensification of buying. But for now, it's best to stay on the sidelines.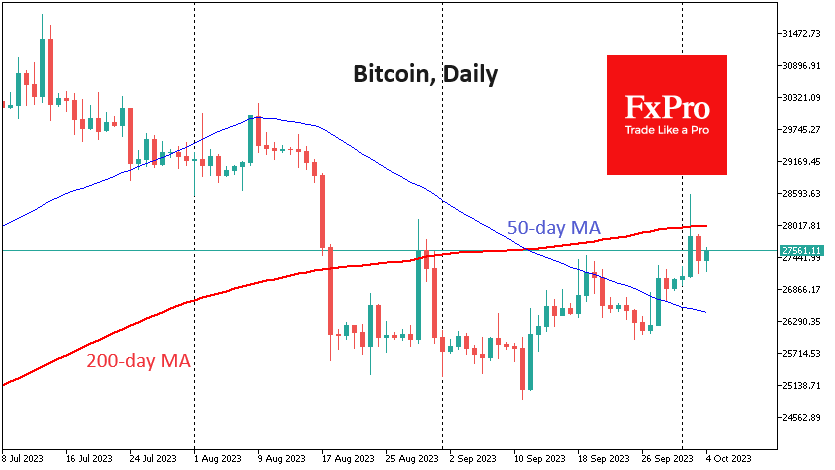 This is especially true as Ethereum is in a tight sell-off. It has lost almost evenly for the fourth consecutive session and only finds sustainable buying when it touches the 50-day average. However, it is pointing down, so the move looks like an organised retreat.
News Background
In another recalculation, bitcoin's mining difficulty rose by a paltry 0.35% to a new high of 57.32T. According to CryptoQuant, the number of bitcoins on exchanges has fallen to its lowest level since January 2018. 69% of bitcoins are held by hodlers who haven't moved coins in over 12 months. Santiment estimates that shark and whale reserves increased by 41,500 BTC over the month. Rostin Banham, US CFTC's chief, said that the agency has become more likely to fine crypto companies, with $6bn in fines for fiscal year 2023.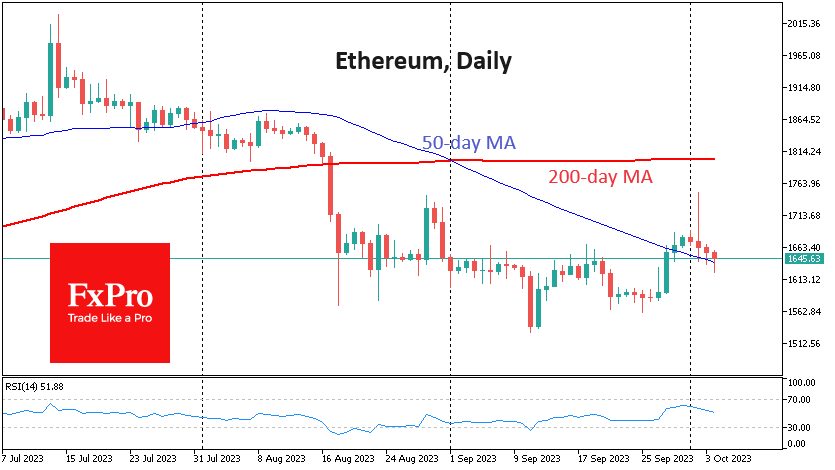 California-based investor Nir Lahav filed a class action lawsuit against Binance and its CEO Changpeng Zhao, alleging unfair competition and intentional destruction of the FTX exchange. At issue are tweets published by Zhao in early November 2022. He decided to liquidate the company's assets in FTX exchange tokens in one of them. According to PeckShield, attackers have stolen $1.15 billion worth of cryptocurrency since the beginning of 2023. A third of this year's losses occurred in September, when at least 22 hacks were recorded.