The US dollar index, DXY, is rigorously testing the resistance at the 106.00 level, with traders dissecting every nuance of the comments made by the Federal Reserve (Fed) officials concerning the trajectory of US monetary policy. Neel Kashkari, the President of the Federal Reserve Bank (FRB) of Minneapolis, recently emphasized the resilience of the US national economy to the current policy maneuvers, suggesting a likely necessitation of rate augmentation to anchor inflation sustainably to the 2% target.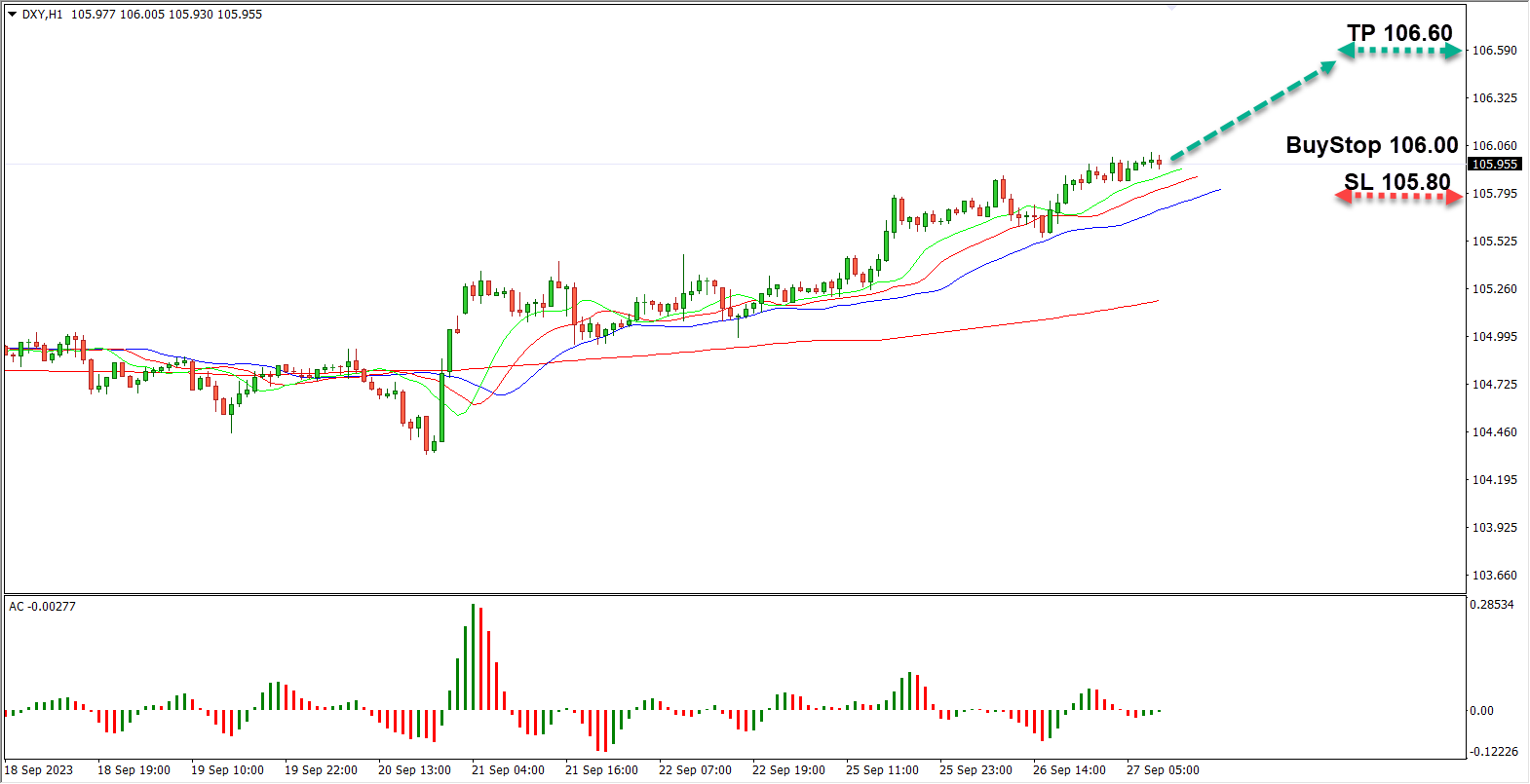 Concurrently, Austan Goolsbee, the head of the Chicago Fed, highlighted the persistent inflationary pressures as a predominant economic quandary over the implications of monetary policy tightening. The overarching sentiment from the officials denotes a potential interest rate elevation, looming in the horizon despite the stabilization at 5.50% in September.
Trade Strategy: BUY STOP 106.00/TP 106.60/SL 105.80
EUR/USD: Protracted Policy Stance
The EUR/USD pair hovers around 1.0550 as market participants meticulously evaluate Christine Lagarde's, the head of the European Central Bank, remarks. Lagarde posited that the existing interest rate regime is pivotal for recalibrating inflation back to the 2% threshold, necessitating sustained elevated levels. This lends to a predominant conjecture of an impending shift away from further monetary tightening, accentuated by the escalating issues of economic deceleration in the Eurozone eclipsing the inflation conundrum. A prevailing anticipation is hinting at the ECB initiating rate cuts by June 2024, potentially perpetuating the Euro's downtrend.
Trade Strategy: SELL STOP 1.0550/TP 1.0450/SL 1.0580
GBP/USD: External Factors Dictating Movements
The GBP/USD pair is navigating towards the support at 1.2100, with notable economic releases being sparse, leaving the currency movements at the mercy of exogenous variables. A consensus among preeminent economists indicates a pause in the tightening cycle by the Bank of England, with the interest rate projected to be retained at 5.25% until at least July before a potential commencement of borrowing cost reductions.
Analysts from S&P Global Ratings project a continual sluggish economic growth in the UK, attributed to the elevated inflation and interest rates, exerting adverse ramifications on households and corporate entities. This confluence of factors portends sustained pressure on the pound.
Trade Strategy: SELL STOP 1.2120/TP 1.2000/SL 1.2160
Conclusive Overview
Market participants remain in a constant state of vigilance, scrutinizing policy frameworks and economic landscapes to navigate the intricacies of currency movements effectively. The diverse monetary stances by the Fed, ECB, and the Bank of England illustrate the multifaceted nature of global economies and the subsequent repercussions on currency valuations. Traders and investors alike continue to maneuver through this intricate tapestry, adapting strategies to align with evolving market conditions and policy outlooks.