The dollar index is currently trading at 105.20. Following the September meeting, the Federal Reserve opted to maintain the rate at 5.5%, aligning with market expectations. In its monetary policy statement, the Fed emphasized that economic activity continues to expand robustly and acknowledged a slowdown in job growth while emphasizing its overall strength. Furthermore, the Fed affirmed the persistence of elevated inflation and its vigilant monitoring of inflationary risks. The Fed's projections indicate the possibility of another 25 basis point rate hike later this year, offering potential further support to the U.S. dollar.
Trading Suggestion: BUY STOP at 105.40 / Take Profit at 106.40 / Stop Loss at 105.10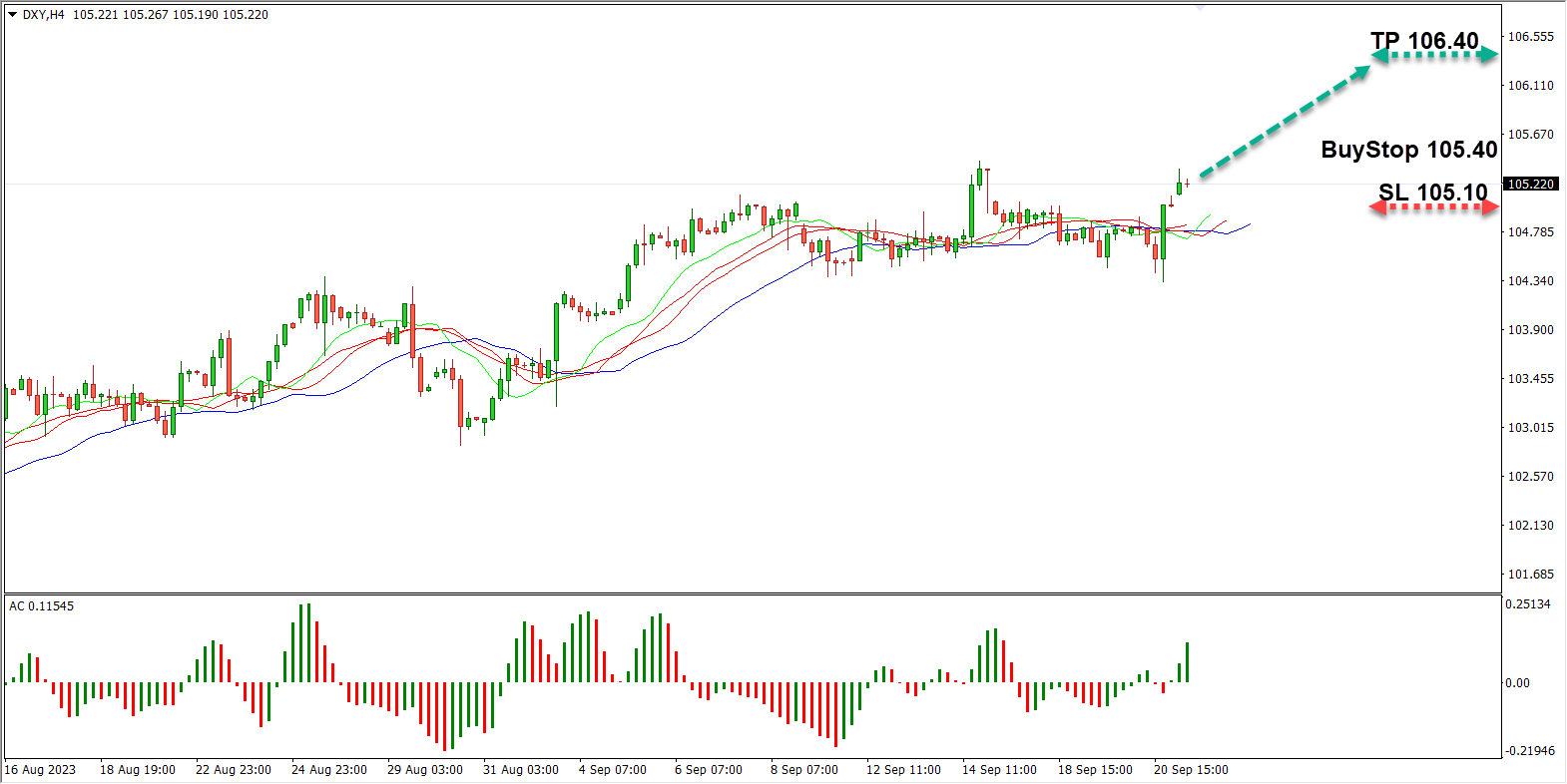 GBP/USD: Sterling Approaches Key Support at 1.23
The British pound is nearing a critical support level at 1.23. Annual UK inflation, as measured by the consumer price index (CPI), moderated to 6.7% in August from 6.8% in July. The core consumer price index also eased to 6.2% from 6.9% during the same period. However, the reduced necessity for a substantial rate hike has diminished the likelihood of the Bank of England pushing the UK economy into recession. Consequently, the British regulator may consider a more assertive rate increase during today's meeting. If the Bank of England opts for a 50 basis point rate hike, it could provide a significant opportunity for the GBP/USD pair to rebound.
Trading Suggestion: BUY STOP at 1.2350 / Take Profit at 1.2500 / Stop Loss at 1.2300
WTI: Crude Oil Corrects at $89 Per Barrel
WTI crude oil is undergoing a correction, currently trading at $89 per barrel. Earlier, Saudi Arabia's Minister of Energy mentioned that the decision to extend the 1 million barrels per day output cut until year-end was rooted in global economic growth concerns and uncertainties surrounding fuel purchases from China. Traders interpreted this as a sign of the country's readiness for additional output reductions if required. Simultaneously, the Energy Information Administration reported a 2.1 million barrel decline in U.S. oil inventories last week, potentially providing supplementary support to oil prices. Given these developments, it is advisable to maintain long positions in oil.
Trading Suggestion: BUY STOP at 89.00 / Take Profit at 92.00 / Stop Loss at 88.00