The EURUSD currency pair has encountered turbulent waters in recent trading sessions, with the predominant sentiment skewing bearish. Despite this, a detailed examination of its movements provides traders with insights into potential forthcoming trends and levels of interest. Recently, EURUSD delineated a pronounced downward trajectory, culminating in an 8-month nadir of 1.0487. This decline has been noteworthy, especially considering that the pair soared to an impressive 18-month zenith of 1.1275 on July 18. The consequential price behavior has been characterized by a consistent formation of lower highs and lower lows, indicating a bearish undercurrent.
While the pair exhibited resilience by stemming further losses at the aforementioned 8-month low, its overarching bearish tone remains unperturbed for the time being.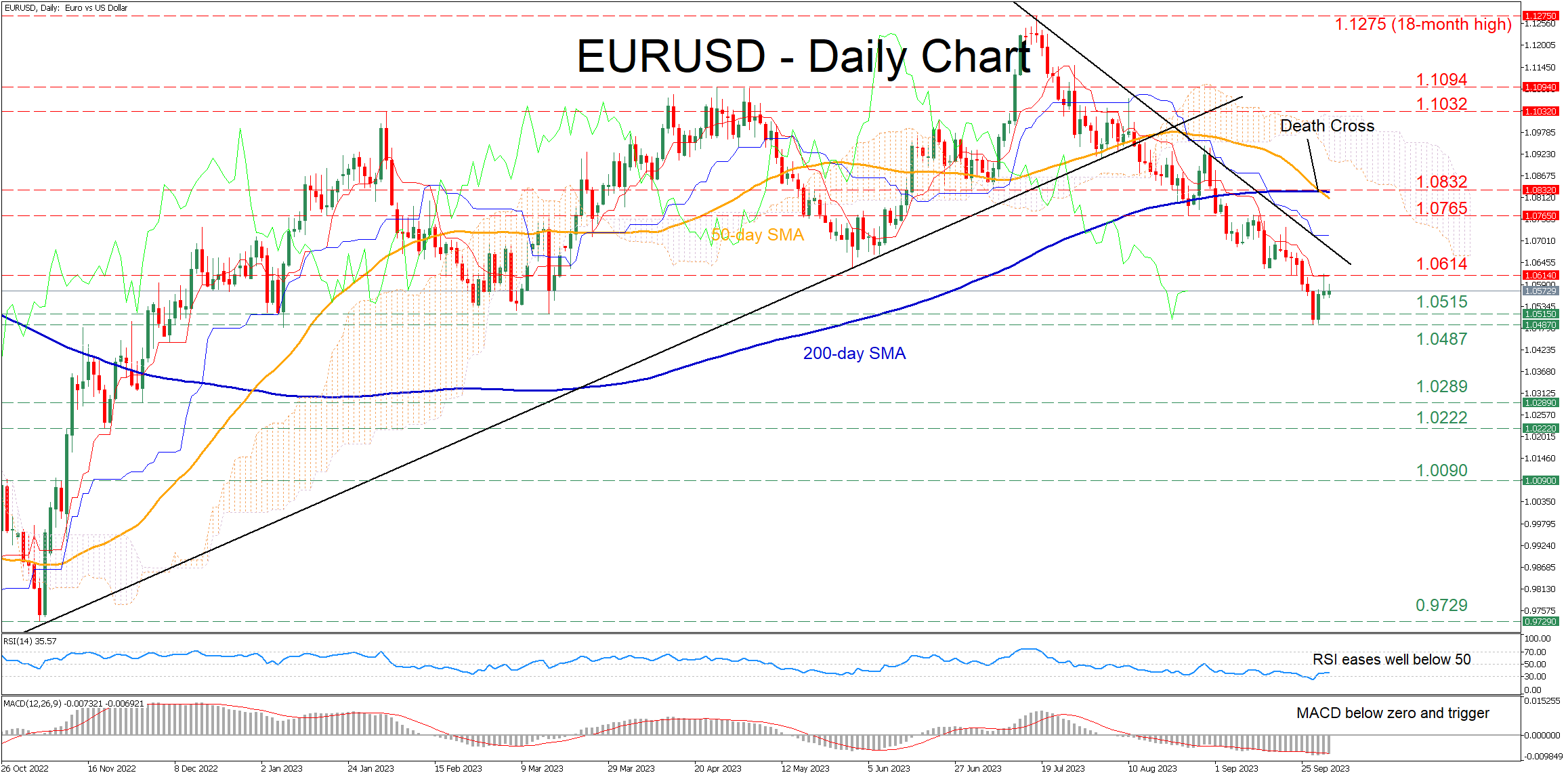 Potential Pathways and Key Levels
Bearish Scenario: Should sellers regain control and exert downward pressure, immediate focus would likely shift to the March trough of 1.0515. Breaching this support could lead the pair to retest the recent low of 1.0487. If the descent persists beyond this, eyes would then be set on the November 2022 support vicinity of 1.0289.
Bullish Scenario: Conversely, any attempts by the pair to rebound and ascend could confront initial resistance at the 1.0614 mark, which has been a recent hurdle. Overcoming this barrier, the next level of interest might be 1.0765. Further north, the zone that provided support during June-July, resting at 1.0832, could metamorphose into a formidable resistance. A continued rally might then challenge the February pinnacle of 1.1032.
Technical Indicators Echo Bearish Sentiments
Adding to the prevailing bearish aura, a technical event known as the 'death cross' has manifested. This occurs when the shorter-term 50-day simple moving average (SMA) crosses below the longer-term 200-day SMA. Historically, such a crossover has been a precursor to extended downtrends, and its recent occurrence for EURUSD may signal intensifying bearish momentum.
While the recent recuperation from its 8-month low offers a glimmer of hope for EURUSD, the overarching technical landscape suggests that the downtrend retains its grip. Traders should exercise caution and monitor the key levels mentioned, especially in the wake of the looming threat posed by the death cross formation.