The EUR/USD pair witnessed a significant development recently, as it recorded its 2023 nadir, hovering around 1.0450. However, it didn't stay there for long. Observers noted a modest recovery in the pair's value, propelled primarily by statements from Federal Reserve officials. These remarks highlighted an unwillingness to ease borrowing costs in the foreseeable future. Diving deeper, the upward trajectory was influenced by a couple of Fed representatives advocating for a maintained stringent monetary policy.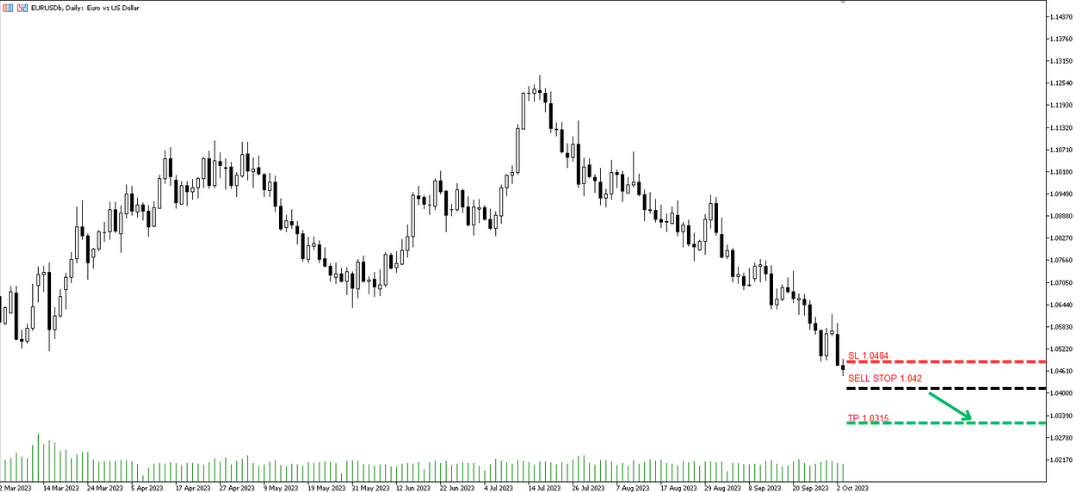 The goal behind this firm stance is to realign inflation rates with the Federal Reserve's benchmark of 2%. This isn't all that pushed the dollar to ascend. Fresh and encouraging economic metrics at the start of the week gave the dollar a boost, elevating it to an impressive 11-month zenith. This, coupled with unforeseen data about job openings in the US, cast the EUR/USD in a bearish light during the US trading hours.
Trading Insight: SELL STOP at 1.042, with a TP of 1.0315 and SL of 1.0484
GBP/USD Landscape
The GBP/USD pair had its fair share of volatility. The Sterling plummeted, recording a 6.5-month trough against the dollar recently. Underlying this downward trajectory were growing apprehensions about the future economic landscape and anticipations of the Bank of England adopting a more reserved posture concerning interest rate escalations. Despite a brief uplift in sentiment, attributed to an upward revision of growth figures for the first quarter, the Sterling couldn't evade the overarching economic anxieties. These fears were exacerbated by burgeoning signs of a potential UK recession. This downturn manifested shortly after the Bank of England advised pausing sustained hikes in interest rates. The Sterling's nadir was marked at $1.2061, with a concluding value at $1.2075, a decrement of 0.1%.
Trading Insight: BUY STOP at 1.211, with a TP of 1.22 and SL of 1.206
XAU/USD Overview
Gold, always a hot topic for traders and analysts, displayed intriguing behavior on Tuesday. The metal saw its price trend interrupted and slumped beneath the $1,820 mark. A key influencer of this decline was encouraging US employment figures. As a consequence, the 10-year US Treasury yield soared, marking an impressive multi-year pinnacle, eclipsing 4.7%. This surge in bond yields applied considerable downward traction to XAU/USD. Another determinant in gold's performance was the overarching market anticipation. Traders and investors widely expect the Federal Reserve to persist with its stance favoring elevated interest rates. This sentiment further strengthened both the US dollar and bond yields, subsequently impacting the trajectory of gold.
Trading Insight: SELL LIMIT at 1863.00, with a TP of 1835.10 and SL of 1878.40
Concluding Thoughts
The prevailing financial environment presents myriad opportunities and challenges for traders. The state of the dollar remains a focal point, influenced by multiple domestic and global factors. As always, astute observation, analysis, and adaptability will be paramount for navigating these intricate dynamics.