In today's trading dynamics, USDJPY has shown a slight resurgence, a response to the turbulence observed in the previous session. The currency pair's behavior appears to be shaped by whispers of potential interventions by Japanese financial authorities. Currently, USDJPY holds its ground, showcasing consistent trading patterns within an upward trend channel. However, a deep dive into the momentum indicators narrates a story of ambiguity and potential shifts.
Intricacies of the Momentum Indicators
While USDJPY remains confident in its upward stride, momentum indicators present a mosaic of perspectives. The Average Directional Movement Index (ADX), often used to quantify the strength of a trend, albeit on a declining trajectory, still hints at a diminishing bullish trend. Concurrently, the Relative Strength Index (RSI) has demonstrated resilience, hovering above its median 50-point for an extended 2.5-month period, reinforcing a bullish sentiment.
Nevertheless, the stochastic oscillator, a crucial momentum metric, is at a crossroads. Its descent below its moving average is noteworthy, signaling its potential move out of the overbought territory. This impending shift could be interpreted as a potent bearish indicator.
Potential Bearish and Bullish Scenarios
For the bearish traders, an enticing target might be pulling the USDJPY beneath the notable August 11, 1998, benchmark of 147.71. Delving deeper, the dense 146.15-146.65 zone presents intriguing dynamics. The amalgamation of factors like the 78.6% Fibonacci retracement from the October 21, 2023 - January 16, 2023 downturn pegged at 146.65, the 50-day simple moving average (SMA), and the lower threshold of the upward trend channel, makes this region a formidable support territory.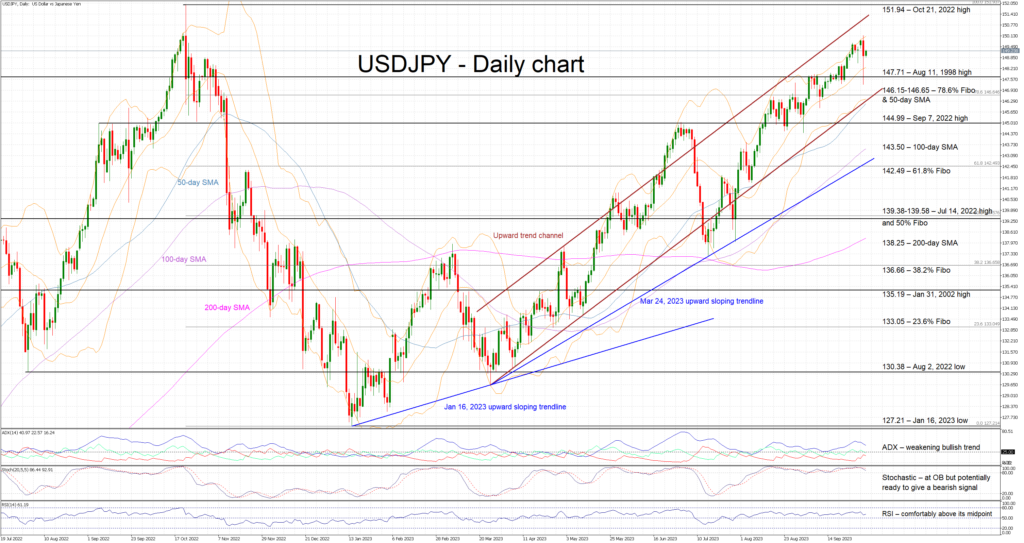 Contrarily, the bulls, while still processing the rumored intervention, might continue their quest for supremacy. With aspirations to register novel peaks, they might set their sights beyond the previous session's apex of 150.15, targeting the notable zenith established on October 21, 2022, at 151.94.
Concluding Remarks
The USDJPY landscape is intricate, dominated by bullish undertones but not without its uncertainties. While the bulls seem to maintain their grip on the market, the looming shadow of a potential JPY intervention and intricate momentum indicators signal that they might be treading treacherous waters. Investors and traders alike will need to be vigilant, employing nuanced strategies to navigate this evolving terrain.