The announcement of the debt ceiling deal triggered a natural spike in interest in Bitcoin on the expectation of increased retail interest in risk assets as institutional investors in Europe and America head off for a long weekend. Bitcoin traded as high as $28.4K at the start of Monday's Asian session but fell back to $27.8K by the beginning of European trading. Meanwhile, the top cryptocurrency has been rising daily since the 25th, pushing back from support at $25.8K, near the 200-week moving average. This move looks like an exit for speculators. However, the market's attention may shift to more market-heavy issues, such as slowing economic growth and high-interest rates.
The bulls are now trying to get Bitcoin back above its 50-day moving average, which would signal a return to a medium-term uptrend. The ability to close above $28.15 at the end of the day could attract more buyers to Bitcoin, while staying lower would be a reason to sell on the upside.
News background
Commodity Futures Trading Commission (CFTC) commissioner Christy Goldsmith Romero said she is ready to regulate the crypto industry with the US Securities and Exchange Commission (SEC). Users of cryptocurrency exchange Tornado Cash have sued the US Treasury Department for imposing sanctions on the service, claiming that banning open-source software violates the US Constitution.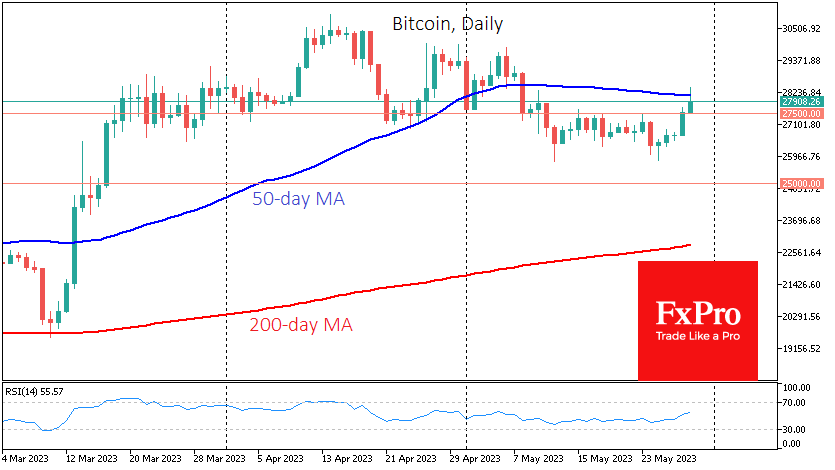 ECB board member Fabio Panetta assured that the regulator would not have access to the personal data of digital euro holders (CBDC). He noted the need to balance ensuring privacy and combating money laundering and terrorist financing. High profitability enables stablecoin issuer Tether to venture into new business areas, according to the company's CTO Paolo Ardoino. Tether made a net profit of $1.48 billion in the first quarter, double that of the previous period.