Alexander Smirnov, the Head of the Department of Control and Auditing in Larson&Holz IT Ltd, and Georgiy Pavlov, the leading expert of the Development Department, are here today to answer your questions and tell about the company profile.
Dear speakers, please share with us: what do you think are the qualities necessary for a modern Forex broker to become successful?
A.S.: Larson&Holz broker has been on the Forex market for more than 10 years already (since 2004). As a man who joined the company at the very beginning of its work, I know perfectly well about the great deal of efforts we put to earn our clients' trust. The XXI century is the time of high technologies and rapid growth of internet services. At the same time, the level of financial awareness has grown significantly over the past decades, and so did attention to so-called self-investing, or self-sufficient money investment. It used to be completely different – people chose to trust specialists and put their money into capital appreciation fund, or just into banks for small interest. Now the majority understand that the money should better be managed on your own. But there are not many variants of investment for minor private investors. And this is when we have to say, that Forex is one of the most attractive variants. The evidence of that is the growing number of people, coming to our company and investing their money with our help. Today Larson and Holz IT Ltd has a great number of active users in such regions as Asia, Latin America and Eastern Europe.
Where there's demand, there's supply, and it's a well-known fact. That is why the number of online brokers offering their services increases. To keep the lights on, companies have to hold up to high standards of our times. I will name just a couple of qualities that are, in my opinion, essential for a good company:
Reliability and security. A company simply does not have a right to operate, if it cannot guarantee full integrity of their personal data and keep their money safe from hacker attacks or some technical problems for their clients;
Clarity in work. There's no need to hide anything, especially when it comes to withdrawing and depositing money, interest accruals, commissions – whether it exists or not, what rate, etc…Otherwise it leads to lack of trust and, as a consequence, client leaving to some other, more honest and trustworthy broker;
Caring about the clients and their comfort. It's crucial to make comfortable environment for your clients, for them to want to stay with you. Everybody likes caring, so give it to them. Improve and develop your services, add new convenient options, give presents. This is how business works.
OK, then comes the next question, a bit tricky: why do your clients pick Larson Holz, exactly? What makes it different from other brokers? You mentioned high level of competition in this field yourself, then how do you survive it?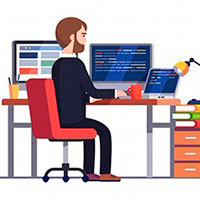 A.S.: You are absolutely right about that, there really is a great number of companies offering access to international currency markets. The competition is tight. However, Larson and Holz has always been taking great care to make its services and programs as beneficial and attractive to its clients as possible. I am sure that our company fully satisfies the criteria I have listed before. For more than 10 years of work there has never been a single problem with illegal access to their personal data or to their account that was not solved. The quality of our services is one of the top ones in this field. What is more, we offer different special services for our clients, depending on their personal choice. For example, we let the traders who prefer positional trading – it implies having open deals for weeks or even months, -- to have no swaps. It means they have no commission for carrying a transaction the next day, so that the clients could save their money, and, therefore, earn more. For scalpers there's NDD service which allows to execute a deal in no time at all. For all of our clients there are the narrowest spreads in the industry – they start from 0 points for the majors. Also, we accrue the interest for the money available on the client's account. For those who trade CFD on shares, Larson Holz pays out dividends adjustments.
G.P.: It seems to me, that we win our clients from other Forex brokers with our exclusive offers and bonus programs too. I cannot but mention a unique service of Larson and Holz Ltd – it's a contest based on traders rating. This is something like a social network for traders, which is already outstanding, no other broker has such thing. But it's not only for sharing the experience, first of all it's a rating table, where all of the traders are enlisted automatically. The 145 from the top of it who have shown the best results over the month, get prize money on their accounts. The prize fund is more than $15000 monthly. The final results are summed each 30 days, and one trader can get into prize list unlimited number of times. It only depends on their trading success. The rating is kept up to date online, and you can learn the results on our site.
But that's not all about the rating, it can also be used for copying deals. This is a service that deserves some special attention. This is one of the steps that Larson&Holz makes towards full automation of the trading process. You can choose one of the numerous traders from the special showcase on the site, scrutinize his or her trading results, view the instruments, watch the tactics and, if satisfied with the results of the research, connect to this account and copy his or her deals on your account. This copydeal scheme works automatically and doesn't need your participation. Actually, we are no pioneers in that, other brokers also have copydeal services. But the thing is that you can not only choose from the global showcase, where all of the best traders are gathered together by their Metatrader 4 platform, no. You can also choose from Larson and Holz rating. Why can it be better? Because you can communicate with your pick first, and, moreover, you will be sure that all of the deals are copied correctly and identically, for you have the same broker, the same conditions.
And what is your advice to newcomers, who have not picked their favourite trading instruments and have not chosen their tactics?
G.P.: Well, I have to mention CopyDeal again. But this is not the only option for them. To those who want to learn to operate their money on their own, I can advise a wonderful option Larson&Holz offers. You can gain some trading experience with no risk at all. I'm talking about a Non-Deposit account. This project has been there for several years already and is still gaining more and more popularity. And this is just natural that it does, because the conditions are very promising. For no charge Larson Holz gives $100 on the account for 3 working days. After these three days the broker takes the $100 back, and the money gained is left on the trader's account. After completing 3 deals on this account and depositing money on it the client can take all the earned sum, or just keep trading. The advantage of this service is that traders get the opportunity to trade on a real account without thinking about risks, because the company takes all the risk.
A.S.: May I also add that not only newcomers choose to open a Non-Deposit account, but the experienced ones as well. For it's a perfect opportunity to hedge risks on a real, already opened account.
And what about the experienced ones?
G.P.: Apart from different kinds of traders' accounts we also have franchising proposals. A client can not just trade, but be our online representative. In that case, a client opens an account, gets a referral link and can post it on forums, blogs, have ads with it – whatever he or she chooses. And then it goes this way: whenever a potential client follows this referral link, there is a special code installed on his or her computer. If then an account is registered via this computer, the partner gets accruals. Accruals are also given when this follower closes trading deals.
A.S.: This is how we extend our network, with our online representatives, but this is not the only way. We also open offices in different parts of the world – Asia, Africa, Western Europe. Our new location is now Latin America.
Wow, you have such a great variety of bonuses and services, you can get lost. Your clients must have certain difficulties with the whole specter of your offers, don't they?
A.S. Actually, it's quite the opposite. One of the goals of Larson&Holz IT Ltd, apart from improving the services, is trading optimization. We want to remove everything that isn't necessary, take away everything that can be taken away – unwanted gewgaw, I'd say. It's best seen in our system of deposits and withdrawals, the most important part for traders. We have put this process into automation almost completely, simplifying it for small sums of less than $400. This is the sum our clients can withdraw on their cards in automatic mode, without filling in any forms and without operator's help.
OK, and the last, but not the least – what are the plans of Larson and Holz for the future?
G.P. As we have already told, the broker Larson&Holz works hard on improving its services and adding new ones. And not for nothing do they award our company in different nominations. So, last year we were acknowledged as the Best NDD broker as a result of people's voting on RTD-money. And this is not the first of our awards. What is more, we keep improving ourselves. Now we work on adding new payment systems, because we work with clients from many different countries, which all have their national payment systems; we plan to make the majority of them available for our clients.
Also, we are planning to launch sites in a number of new languages. Today our site https://lh-broker.com/ is available in 14 languages, including Vietnamese, Thai, Croatian, etc.
In simple words, we are not going to rest on our laurels, but keep working for our dear clients.